Even if you have already visited Las Vegas several times, there is always something new to see
Restaurant — Raiders Tavern & Grill
If you're a sports fan, you know that the NFL had one of its biggest relocation happenings occur last year when the Oakland Raiders franchised officially moved home bases to Las Vegas. The team had previously signed an extensional lease agreement in 2019, with the knowledge that the move would become finalized the following season. This change was, and still is, a huge deal for the city, as Raiders supporters now have a different stadium at which to cheer on the Silver and Black.
This has also meant that new establishments are being created to serve fans, with one of these being the Raiders Tavern & Grill. This 3,400 square feet Raiders-themed restaurant is now open, and with team memorabilia, 45-inch HD TVs, and an electric football atmosphere, it is a must for Raiders fans near and far.
Resort/Casino — Resorts World
One of the most highly anticipated grand openings to hit the city in recent years, Resorts World Las Vegas just recently had their ribbon-cutting ceremony on the eve of June 25th. This mega-resort and gaming establishment represents an even newer and flashier look on the famous Strip and is one of the first of its kind to set up shop here since the 5-star Cosmopolitan hotel opened in 2010. It also speaks to the massive development and expansion of Vegas as a whole.
In the same day, visitors can check out this glitzy new resort and take a stroll down Freemont Street where some of the oldest, most historic resort-casinos line a five-block radius. In fact, one of these, the Golden Gate Hotel and Casino, is actually Las Vegas' oldest in general and the oldest operating casino in the United States. So, whether guests are in the mood for a flashy, contemporary accommodation, or something more antiquated, Sin City has a resort style for everyone.
Off the Strip — Virgins Hotel Las Vegas
In addition to Resorts World, there is another newly rebranded hotel located off the Strip that just opened this year back in late March. The Virgins Hotel Las Vegas previously operated as the Hard Rock Hotel for over 25 years until it was closed and given a brand refresh as Virgins Hotel with a desert-oasis theme. The hotel will come alongside other modern establishments like it, introducing updates to its mobile app Lucy including new contactless features like ID verification and cashless tipping.
Aside from these snazzy amenities, the hotel also gives guests the opportunity to relax at its five-acre swimming pool or dine at one of its 12 restaurant options which include a Mexican cantina and Beach Club eatery. One thing's for certain- a stay the Virgins is not to be easily forgotten.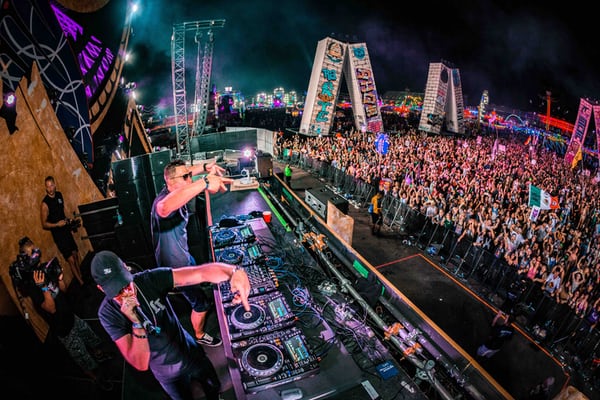 Scenes from the 2017 edition of the Electric Daisy Carnival
Musical Entertainment — Electric Daisy Carnival
The Electric Daisy Carnival is one of Vegas' most prized music festivals, bringing people from all over to dance the night away under the bright lights of Sin City. This year the event will take place at the Las Vegas Motor Speedway over the course of three exciting days, October 22-24, and celebrate its 25th anniversary. The festival, which has been scheduled annually since 1991, features camping accommodations, incredible musical acts, carnival rides, and much more. The EDC brings together more than 100 famous electronic artists, with this year's lineup set to showcase Alesso, Alison Wonderland, Alan Walker, Jason Ross, Rezz, and AC Slater, just to name a few. Pre-sale tickets are already live so if you're interested in attending, be sure to get yours today.