WOMEN'S WORLD
Way back in the 20th century (and let's remember, that was only 17 years ago), the medical gold standard treatment for shaving off years and looking younger was the facelift.
Not anymore.
Now the 21st century woman (and man) has a plethora of noninvasive options to turn back the clock without having to go under the knife.
Of course, we all have our arsenals of day creams, night creams, eye creams, throat creams and pretty much creams for every other conceivable part of our anatomy, all of which we generously lather on faithfully twice a day in the hopes of warding off those first telltale signs of aging as long as possible.
And there is no denying that a good moisturizing cream applied regularly (along with that super-crucial sunblock cream to protect from UV rays) can go a long way in protecting skin against the inevitable process of maturation.
But can those so-called commercial miracle creams actually reverse damage already done by Father Time? Not so much.
But injectables can.
And these minimally invasive procedures are, for the most part, affordable, effective, relatively painless and won't interrupt your daily routines.
Moreover, most of the procedures are quick and the risk of any serious complication is far lower than with surgery.
Basically, the trend toward noninvasive procedures to fend off the signs of aging began with the introduction of Botox in the 1990s, explained dermatologist and derma-surgeon Isela Méndez of the Clínica Dermatólogia Isela Méndez in Mexico City's upscale Polanco neighborhood.
"Botox was the start of the noninvasive revolution," she said.
Botox is the brand name for botulinum toxin type A, a highly purified neurotoxin that temporarily paralyzes the nerve impulses within the facial muscles, causing those muscles to relax.
The relaxed muscles in turn help to diminish facial wrinkles, fine line and crow's feet that are caused by repetitive muscle activity, such as smiling, frowning or squinting.
According to the Mexican Congress of Plastic, Esthetic and Reconstructive Surgeons (CMCPER), about one million Mexicans had Botox therapy last year, and the demand for the neurotoxin injections is expected to rise by at least 10 percent in 2017.
"People have always wanted to look younger," said Méndez.
"But now we are living longer and working longer. To be a contender in today's tight job market, you need to look like you're still in the game."
Since the introduction of Botox by Allergan Inc., there have been other botulinum toxin pharmaceuticals that have come into the market, including Dysport by Medicis Aesthetics and Xeomin by Merz Pharmaceuticals, Méndez said.
"They all work in essentially the same way," Méndez said.
"Basically, the choice depends on the physician's and patient's preference."
After the use of Botox and Botox-like pharmaceutical became widely accepted, Méndez said that injectable fillers such as Restylane and Juvederm — both of which were introduced in Mexico about 10 years ago — took the noninvasive revolution to a whole new level.
"With these products, which are composed of hyaluronic acid (a natural substance within skin that stimulates collagen production), we are able to plump up areas of the face that are thinning and appear to have sagging or flaccidity," she said.
Granted, neither Botox nor fillers can achieve the results of a full-fledged facelift, but Méndez said they can produce dramatic improvements and are usually administered in a doctor's office, requiring no downtime.
They are also both very affordable, about 6,000 to 15,000 pesos per application, depending on the physician and how much of the drug is applied.
Results from both of the treatments can last for up to five or seven months.
But what about patients who want to combat the signs of aging without injections?
Méndez said there are plenty of other noninvasive treatments available which can treat targeted areas of the face, throat and hands.
One option she offers in her office, in addition to Dysport and fillers, is a thermal radio therapy, which works by creating a controlled injury to the skin that sets a wound-healing response into high gear to spur collagen formation and cell regeneration, while firming and plumping the skin.
Other treatments such as dermal abrasion and laser therapy are affordable and painless and can be administered in about an hour.
And there are new noninvasive treatments being developed almost daily.
So forget the scalpel and talk to your licensed dermatologist or plastic surgeon (do NOT let any of these procedures be done by amateurs), and you may just discover a new way to look younger almost instantly with a simple visit to your physician.
More information
 Isela Méndez' dermatological clinic is located at Calle Plinio 118B in Polanco (tel: 5280-7256 or 5280-4218),
For more information, consult the webpage www.iselamendez.mx.
WHAT'S NEW
Cushioned Radiance
Dior has just introduced its new Diorskin Forever Perfect Cushion foundation with a long-lasting luminous matte finish and pore-refining effect. This incredibly light,  makeup provides a fresh, fluid texture with a weightless sensation that blends unperceivably with skin to cover flaws and create a soft, silky glow. It also includes a broad-spectrum SPF 35 mineral-based sunblock to protect skin from UVA and UVB rays. Used alone in the morning, Diorskin Forever Perfect Cushion ensures a natural and flawless makeup look that stays put for up to 16 hours. And because it comes in a handy, light-weight compact, it is also the ideal on-the-go solution for touch-ups to refresh your complexion throughout the day. If you prefer a heavier coverage, Diorskin Forever's liquid foundation has the same pore-diminishing formula and SPF 35 sunblock.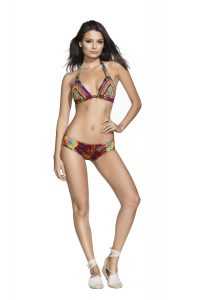 Splashy Swimwear
Blu Lagoon's new spring/summer collection is bursting with bright, sultry, tropical prints paired with botanical embroideries and super-sexy lace textures that are sure to make a splash at the beach this season. The Mexican swimwear boutique has been offering an exclusive array of bikinis and one-piece suits by top national and international designers since 2010, and this year, the store has expanded its selections to highlight more Latino designers, with bold creations that accentuate and flatter the full-figured Mexican woman's curvy silhouette. Headlining Blu Lagoon's new collection are dayglow pieces by Colombian designers Catalina Álvarez and Mariana Hinestroza's Agua Bendita line, with pinking-shear fringe and multi-hued macramé tops and bottoms. The Australian Jets by Jessika Allen line makes a dramatic statement with retro-like black-on-white cutouts and waist-high bottoms. The strappy Malai line combines boho chic with updated laser-cut one piece designs. And the Israeli Gottex brand offers classic styles with added support for the tummy and bust. Blu Lagoon also has a new line of Melissa Duraznos waterproof heels and pumps in soft pastels and daring primary shades, along with plenty of wraps and silky swimwear cover-ups to complete your beachy look.
Bagging It
The Vancouver-based bag and accessory company Herschel Supply just launched their second store in Mexico inside the Oasis shopping mall in Coyoacán (it launched its first store last year at Mundo E), and the brand's global sales manager, Tim Wakaruk, flew down for the opening. Known for its tough-and-sturdy hipster retro backpacks and travel gear, Herschel also produces totes and wallets, and will soon be entering the clothing market with jackets and ponchos, Wakaruk said. Herschel's new spring/summer collection includes understated classic styles with unexpected colors and texture combinations, along with the company's signature white label, that reads: "The Finest Quality/The Herschel Supply Co. Brand/Trade Mark" (with the word "Herschel" in script). Created by two brothers in 2009, the brand now has more than 10,000 stores in 72 countries and is looking to expand into Central and South America.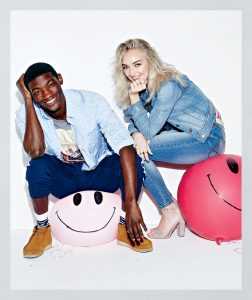 Fashion Free
The U.S- shopping mall brand Aéropostale casual clothing brand has grown up and stopped using its clientele as billboards. No longer brandishing its name in mile-high letters on every item it produces, the new, kinder, gentler Aéropostale is geared to a slightly more mature audience in their late teens and early 20s who are looking for easy-going comfort that lets their own personal style shine through. Aéropostale kicked off its new spring/summer collection with a Free To Be marketing campaign, using bloggers and real people instead of models to get the brand's message across. The company, now under new ownership by the Authentic Brands Group (ABG), is still true to its core energetic youthfulness, but now has a hint of sophistication thanks to an intricate use of quality natural fabrics, including gauzy cottons, crisp seersuckers and soft linens. The mix-and-match pants, shirts, shirts and activewear pieces embody a 70s bohemian flair with lots of patchwork prints and layers. The predominant colors in the new collection are flamingo pink and Caribbean blue, with shades of burnt orange and muted gray in between.
THE NEWS