WOMEN'S WORLD
Oh, those sensuous curly locks, those luscious swirls of tresses that frame the face with romantic perfection and seem to never need the intervention of a comb or styling brush.
Well, that's how most straight-haired women view the "fortunate half" of the female gender that is blessed with curly hair.
But the truth be known, while we straight-haired girls are busy applying hot rollers and envying our wavy-haired sisters, most curly-locked maidens are cursing the genes that gave them their full-bodied looks.
"Curly and wavy hair are the hardest hair to manage," explained Rubén Plata Guzmán, owner and director of Rubén Plata Studio in Colonia Cuauhtémoc.
"It tends to have a mind of its own and resists styling, even by professionals."
Moreover, he said, curly hair is usually dry hair, which means it needs extra care and nutrition.
"This is because the natural oils that your scalp produces normally don't reach the ends because it is not a straight line down the hair shaft," he said.
"Consequently, many curly-haired women have oily scalps and dry, broken ends."
And since most women with natural curls opt for long hair styles, the problem is exasperated.
"What happens is that because the ends are dry, curly hair often becomes frizzy and even harder to control," Plata Guzmán continued.
"And rain and humidity make the problem even worse."
But Plata Guzmán insisted that curly-haired women should embrace their bounce and learn to enjoy the advantages it brings.
"Curls are not a trend," he said. "They're a lifestyle, and once you accept that fact, you realize that you are going to have to learn to live with them."
Like most hair woes, this is a problem which can be treated thanks to a barrage of professional products now on the market.
John Frieda has an entire line of "Frizz-Ease" products to tame the kink plus a fantastic 3-Day Straight semi-permanent styling cream, and L'Oréal Paris makes shampoos, conditioners and leave-in treatments that will help smooth out your ringlets. Also, Moroccan Oil (made from deep-penetrating argan oil) does wonders to pacify over-crimped hair.
"There are plenty of hair care companies which are currently producing shampoos and treatments specially designed for curly hair, and the cost is usually the same as regular hair products from the same line," Plata Guzmán said.
"The best routines include a shampoo, conditioner, treatment and spray that will provide continuous moisture."
By reapplying a leave-in product throughout the day, he said that most curly-haired people can prevent frizzing.
Plata Guzmán also said to limit shampooing your hair to no more than twice a week.
Shampooing strips your hair of its natural oils, he said.
"Avoid using narrow toothed combs and brushes," he added. "Use wide-toothed combs instead which have less of a tendency to cause breakage and frizzing."
To detangle your hair, in the shower start with your hair moist and conditioned (which will protect it from breakage), use your fingers to begin the untangling then finish with a comb starting from the end going up finishing at the root of the hair.
Then, rinse your head with water and try to retain half of the conditioner in your hair. If you try to detangle your hair when it's dry, you will cause it to frizz even more.
But Plata Guzmán admitted that even the best products will find a formidable challenge when faced with heavy humidity such as a weekend in Acapulco.
"You can apply as much conditioner and treatment as you want, but if you are jumping in and out of the water, odds are your hair is going to frizz," he said.
If that happens, he recommended a pulled-back style which keeps hair out of the way and neatly arranged even in the rain.
He also said that if curly hair tends to look too full or heavy, a layered cut will help to even out the thickness.
"Layered hair is far easier to control and can be very flattering," he said.
"But the most important thing is to care for your curls, and that means a deep conditioning treatment at least once or twice a week. This can make all the difference in the world."
In between, Plata Guzmán said you should never skimp on the daily conditioner and avoid hair driers and other harsh agents such as heavy hair spray.
"Let your hair dry naturally," he said.
"God gave you a natural gift of curls which can look fabulous and very fashionable."
And just remember, while you are dosing yourself with anti-frizz sprays and humidifying moisturizers, we girls with straight hair are sitting in beauty salons suffering the torture of permanent solutions and curling rods wishing we had your waves.
More information
 Rubén Plata Studio is located Río Lerma 18 in Colonia Cuauhtémoc (tel: 4159-0198).
WHAT'S NEW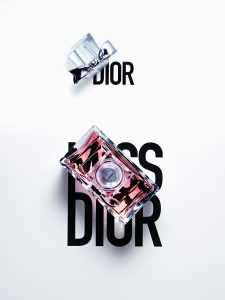 Tributary Fragrance
As part of the ongoing celebration of its 70th anniversary, the luxury design house Dior has launched a reinterpretation of its classic Miss Dior fragrance, Miss Dior Eau de Parfum. The original Miss Dior Christian Dior was released in 1947 by Christian Dior and was allegedly named after his little sister when she inadvertently inspired the scent by spilling bottles of patchouli oil and mandarin extract in his studio. The new Miss Dior Eau de Parfum is a sensuously romantic but updated take on the original, with a slightly more edgy twist and an unexpected finish. Fronted by "Black Swan" beauty Natalie Portman and promoted with the hashtag #whatwouldyoudoforlove, it is a seductive blend of fruit and flora notes capped off with a hint of wood. Available starting in late August, Miss Dior Eau de Parfum opens with fresh punch of mandarin, lemon and other citruses, followed by a warm and elegant base of Grasse and Bulgarian roses, and closes with the lingering aroma of red pepper and rosewood.
Sassy Scent
Guerlain, meanwhile, has added yet another fragrance to its iconic La Petite Robe Noire collection, Black Perfecto. This provocatively spirited eau de parfum is a much darker and provocative variation of the original La Petite Robe Noire, with spicy notes of leather and licorice intertwined with roses and almonds. Created by Guerlain in-house perfumier Thierry Wasser, Black Perfecto is intended to be a marriage between a leather biker jacket and an elegant black evening gown. It opens with an alluring bouquet of sour cherry, black tea leaves and almond extract. At its heart are Bulgarian roses and sweet anise root. Black Perfecto closes with a haunting blend of black musk, tonka beans, patchouli and leather.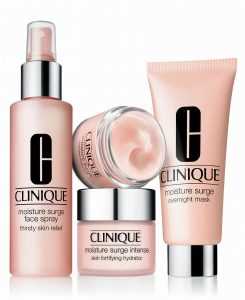 Bally Up to the Bar
Clinique has made it easier to choose the right face moisturizer by creating a simple skincare bar, where, after a short review of your skin's qualities and history, you choose from three lines of cleaning and moisturizing products suited to your particular needs. The first Clinique line, Moisture Surge, in pink, is formulated to give your skin radiating hydration for up to 24 hours, and is ideal for dry and dehydrated skin. It also includes a new, deep-penetrating serum to complement the cream. The second Clinique line, Dramatically Different, in yellow, is for normal and combination skin types. It boosts hydration and complexion health for up to eight hours. The third Clinique line, Pep-Start, comes in blue and is for oily skin, leaving a matte finish that lasts up to six hours.
Zesty Clean
Zest, the Procter & Gamble soap and body wash line that was introduced in 1955 with the slogan "For the first time in your life, feel really clean," has now expanded its line to include an antibacterial collection of bar and liquid soaps that kill up to 99.99 percent of microbes. These easy-on-your-skin-hard-on-bacteria cleansers come in two zesty-scented varieties, Anti-Bacterial Protect + Frescura, enriched with thyme and tea oil, Anti-Bacterial Protect + Humectación, with chamomile and jojoba oil. Zest is also launching a nationwide media campaign in Mexico to help promote better hand hygiene, encouraging people to take the time to wash their hands at least 60 seconds after going to the bathroom, changing diapers or handling pets and before preparing food, noting that these actions can dramatically reduce the incidence of both gastrointestinal and respiratory infections.
THE NEWS