WOMEN'S WORLD
Avenida Reforma will be drenched in a sea of bright pink T-shirts and baseball caps on Sunday, Oct. 29, when Avon Cosmetics hosts its 23rd Annual Walk and Run for Life for breast cancer prevention and early detection.
The 2017 10-kilometer run and 5-kilometer walk will be held under the slogan of "Cada Paso Es por Tí" ("Every Step Is for You"), intended to highlight the fact that almost every family in Mexico is touched by the disease in one way or another.
"We are all going to be running for someone who is close to us, since one in eight Mexican women will develop breast cancer in their lifetime," said Magdalena Ferreira Lamas, vice president and general manager of Avon for Latin America, during a press conference to announce the upcoming marathon.
"This race is not just about women; it's about families. And we encourage, men, women and young people to participate in it."
Gerardo Castorena Roji, head of the ABC Medical Center's Breast Cancer Early Detection Clinic, pointed out that while breast cancer can be fatal, the race is also about hope.
"We hear far too much about how breast cancer is a deadly disease," he said.
"But the fact of the matter is that, while it cannot be prevented, it can be treated and patients today have an overwhelming chance of survival."
While the incidence of breast cancer in Mexico is on the rise, the cure rate is higher today than it has ever been before, he said.
In fact, Castorena Roji said, even though, according to government statistics, about 70 percent of breast cancer cases in Mexico are detected in the later stages, 65 percent of Mexican breast cancer patients will survive.
Castorena Roji added that in some First World countries such as the United States and Great Britain, the survival rate is now as high as 85 percent.
"We can reach those same numbers here is Mexico," he said.
"We have the technology, equipment and the expertise, but we need to work on getting the message out for women to get checked on an annual basis so that, should they get the disease, it can be detected early and treated before it has advanced to stage three or stage four. Early detection means a better outcome."
Ferreira Lamas said that one of the main objectives of the pink-out sprint is to create more public awareness and to encourage women to get checkups.
"Every woman needs to do a monthly self-examination, have a clinical examination from her doctor once a year and, after age 40, get a yearly mammogram (earlier if there is a family history of the disease)," said Laura Suchil Bernal, head of government orientation for the National Institute of Cancerology (Incan).
At least 11,000 people are expected to participate in this year's Walk and Run, which will begin at 7:30 a.m. from the Diana Fountain roundabout and continue down Avenida Reforma through Chapultepec Park.
A smaller Avon Walk and Run is slated to take place in Celaya, Guanajuato, on the morning of Sunday, Oct. 8.
Participation in the Mexico City marathon will entail a 289-peso donation, and will entitle the runner to a Cada Paso Es por Tí T-shirt and Avon product goodie bag.
The recommended donation for the Celaya run will be 219 pesos.
People can also help out by purchasing special Avon Pink Products during the month of October (International Breast Cancer Month), with all proceeds going to help in the fight against the disease.
"All the money raised through the marathon and the sale of Pink Products will go to help breast cancer institutions across Mexico," said Ferreira Lamas.
"Avon, which has been in existence for 135 years now and has been in Mexico for 65 years, is first and foremost a company for and about women. That is why we have always been involved in projects like this that help women."
In the 32 years that the company has been participating in the fight against breast cancer, Avon has raised more than a $1 billion worldwide, she said,
Last year, the run in Mexico produced more than 9 million pesos, which was divided between 13 foundations for 16 projects focused on screening, treatment, research, public awareness and reconstruction.
"This is truly a race for life," said Suchil Bernal.
"It is an event for the celebration of life, as well as a way to raise money for foundations, institutions and organizations."
This year's Avon marathon is being cosponsored by several Mexican firms, including Comercial Mexicana, Barrinolas, IMU, Algarabia and Bedoyecta of Laboratorios Valeant.
The Avon Breast Cancer Crusade was first launched in the United Kingdom in 1992, and later extended to over 50 countries, including Mexico in 1994.
More information
 The 17th annual Avon Walk and Run for Life will take place in Mexico City on the morning of Sunday, Oct. 29, leaving from the Diana Fountain located at Avenida Reforma and Mississippi and will continue up through Reforma Chapultepec.
 The run will begin at 7:30 a.m. and the walk will begin a half hour later.
 A smaller version of the race is slated to take place in Celaya, Guanajuato, on Sunday, Oct. 8.
 For more information on these events or to sign up to participate, check out the webpage www.avoncruzada.com. 
WHAT'S NEW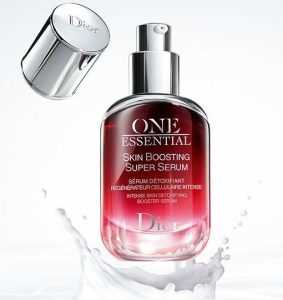 Super Serum
Dior has added a new Skin Boosting Super Serum to its iconic One Essential beauty line. More than just a serum, One Essential Skin Boosting Super Serum detoxifies, regenerates and boosts tissue for a truly revitalized complexion. Every day, skin faces an onslaught of external and internal aggressors such as UV rays, stress and environmental pollution. One Essential's powerful formula targets 100 percent of both outdoor and indoor toxins (including irritants from carpet, glue, varnish and electronic devices). This new serum quadruples the effects of active ingredients in other skincare products that are applied posteriorly, such as vitamin C, longoza, hyaluronic acid and bifidus. It works especially well with other One Essential anti-aging skincare products. One Essential Skin Boosting Super Serum can be worn under makeup or alone. The result is a lasting radiance that defies aging.
Youth Effect
Revlon's incredible new Youth FX Fill + Blur Primer for Face and Neck, Youth FX Fill + Blur Primer for Forehead, Youth FX Fill + Blur Foundation, Youth FX Fill + Blur Concealer are like a Botox and Restylane treatment in a bottle, but without the needles. Used in combination to target fine lines and wrinkles, the four products, powered by innovative age-correcting technology with micro-fillers and optical diffusers, instantly erase the appearance of dark spots and hyperpigmentation while filling and blurring lines for immediate results. Wrinkles and pores appear smoother after just one application. The lightweight, hydrating formula provides even coverage and looks fresh all day. The gentle fluid foundation and fillers, as well as the touchup concealer, feels comfortable and won't settle into cracks or flake.
 Professional Straight
And from Revlon Hair Tools comes three new innovative, must-have straightening tools to keep your hair smooth and shiny all day long. The Revlon Pro Collection Salon One-Step Straight and Shine XL Heated Brush straightens and adds shine, and has an extra-long styling surface, This sleek black brush features a combination of ceramic-coated straightening plates and nylon bristles. The plates heat up and do all the straightening work while the bristles gently comb through even the more unruly head of hair, detangling without tugging or snagging. There is also a Revlon Perfect Heat Smooth Brilliance straightening wand with floating ceramic tiles, and for delicate or color-treated hair, a Revlon Salon Straight Copper Smooth straightening wand with copper plates that protect against breakage. All three products have advanced ionic and tourmaline technology to help reduce frizz and give hair additional shine.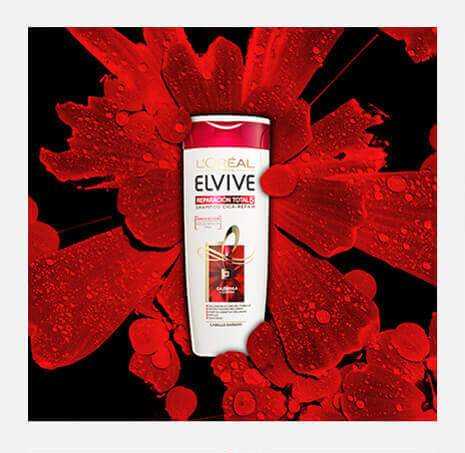 Hair Rejuvenation
For severely damaged hair, L'Oréal Elvive has a new five-punch hair repair trio – shampoo, conditioner and deep-penetrating treatment – called Elvive Reparación Total 5. Elvive Reparación Total 5 helps to nourish dry and brittle hair by infusing it with follicle-deep moisture. It also has micro-fusion elements to help smooth rough hair cuticles and close split ends to make hair look healthier. And the line's special nourishing elements impart shine and leave hair silky soft. Weak, limp, damaged hair looks replenished, full and restored. Hair feels stronger and revitalized with a healthy looking radiance. Elvive's pro-keratin and ceramide enriched formula instantly replenishes hair without weighing it down. Used in combination, the three Elvive products can make your tresses seem like new, even if you constantly expose them to heat and chemical treatments. Elvive Reparación Total 5 is available in self-service stores nationwide and has the added advantage of being extremely affordable.
Beauty Anytime
Sephora, that one-of-a-kind, if-you-can't-find-it-here-it-doesn't-exist makeup and beauty emporium, is now available online in Mexico. That means you can now order your favorite Kat Von D mascara, Dr. Jart + Hydration Lover Rubber Mask, Ole Henriksen Truth Serum Collagen Booster or Miss Dior Blooming Bouquet perfume 24/7. (No more waiting for the store to open to replace that Nars Radiant Creamy Concealer). The online beauty boutique even offers free delivery for orders over a certain order price total. The webpage is www.sephora.com.mx.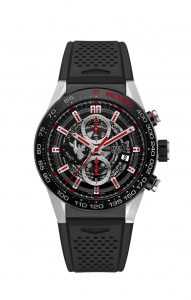 A Watch for Mexico
Tag Heuer, the high-end Swiss watch company, has created a special limited edition model to commemorate the relationship of the brand with Mexico. Sold only in Mexico with just 100 numbered watches available, these collector's item automatic precision chronographic wristwatches boast an image of Mexico City's Ángel de Independencia monument, along with a sapphire crystal face that won't crack under pressure. Available staring in late September, these watches also have a chronograph minute hand and a date window, with beautifully polished hands equipped with luminescent markers and a polished screw fitting case back and screw-in crown. And on the upper right hand of the face, the name Mexico in bright red stands out as a reminder that the piece is a tribute to one of the brand's most important markets. This is Tag Heuer's seventh exclusive watch for Mexican consumers. Tag Heuer has been making high-quality timepieces since 1860, and is part of the LVMH luxury product group.
Snazzy Sneakers
The popular California-based tennis shoe brand K-Swiss is now available in Mexico, with trendy, all-leather styles for men, women and children. K-Swiss' new fall/winter collection is being kicked with the help of the line's special ambassador in Mexico, telenovela heartthrob Mauricio Ochmann (think "Victorinos," "El Clon" and, most recently, "El Señor de los Cielos"). The K-Swiss label was launched in 1966 by two Swiss brothers, Art and Ernie Brunner, who migrated to Los Angeles and were avid fans of both skiing and tennis. In designing their footwear, the brothers took inspiration from leather ski boots to create a court shoe with a tight fit that supported aggressive side-to-side movement. The new sneaker was the world's first all-leather tennis shoe and it powered some the best competitors at Wimbledon to victory. The classic T-Swiss quickly became a style statement on and off the court, worn casually in country clubs and just fashionably on city streets. The brand's newest collection (designed with the help of young entrepreneurs like Anwar Carrots and Coco & Breezy) combines K-Swiss's signature shape and sophisticated athletic comfort with up-to-the-minute chic for three new hero sneakers: Icon Knit, Icon 66 and Court Frasco. The footwear fuses athletic comfort with minimalist clean profiles that's designed for a younger, hipper market.
Updated Trunks
And, hey, you guys out there, it is time for a serious makeover of your swimwear attire. The Seahorse line, produced in Mexico for Mexican men and boys, has a brand new collection of French cuts and Father-Son matches in classic solids and bright ocean wave and Day of the Dead skull prints. Seahorse also makes matching fitted, light linen overshirts to complete your beachside look. The prices are majorly affordable and the trunks are made to keep their color even in choline-laden swimming pools. The Seahorse brand is available on line at www.seahorse.com.
Stars and Stripes
Tommy Hilfiger's new fall/winter prêt-à-porter collection – due to hit stores worldwide this month – is a red, white and blue salute to the United States, as well as to that nation's rocking 1990s music scene. The collection is heavy on the brand's core stars and stripes theme, as well as plenty of oversized, layered, mix-and-match plaids and stylized bomber jackets with silver studs and images of the signature Hilfiger eagle. There is an impressive rock-star sub-collection designed in cooperation with American supermodel Gigi Hadid, that is intended to let wearers get the rush of runway fame and cocky rocker glory. A consistent U.S. flag color scheme is geared to encouraging Hilfiger aficionados to combine different patterns and textures to create an eye-popping personal style that translates into haute couture grunge. Embroidered organzas and mucky floral all-over printed silks give the collection a unique carefree collegiate style, with silk slip dresses worn over rock-inspired jerseys and heavy wool plaid shirts and skirts with metallic badges worn with time-honored classics from the Tommy Hilfiger archive. In the collection, vintage rock band familiarity meets teenage varsity nostalgia, harking back to a decade of high school and heartthrobs.
Snoopy Catsup
After more than three decades, Charlie Brown and the rest of the Peanuts gang may have been fired by MetLife Insurance last year, but at least Snoopy has found a new gig to keep dogfood on his table. The Mexican processed food and condiments giant La Costeña has engaged the iconic little dog to be its company mascot for its Salsa Catsup. The cute little beagle is now appearing on all the company's catsup bottles and in a series of ads aimed at kids and families. And he even is making surprise cameo appearances at supermarkets and other La Costeña catsup points of sales. La Costeña, which was founded in 1923 by Vicente López Resines, is a fully Mexican-owned transnational company with more than 30 different products. It has three plants nationwide, in Ecatepec, Sinaloa and San Luís Potosí, plus factories in Chile, Arizona and Minnesota. Looks like Snoopy will be traveling a lot in the weeks to come.
THE NEWS