WOMEN'S WORLD
Most people think of acne as an unpleasant teenage rite of passage, an annoying condition that they will outgrow by their early 20s.
But while the majority of young adults do see the frequency of their facial breakouts fade as they age past their adolescent years, almost half of adults over 25 suffer from acne.
"A staggering 50 percent of Mexican women between the ages of 25 and 40 have moderate or severe acne, and nearly 20 percent of Mexican women over age 40 have moderate to severe acne," said dermatologist Mary Carmen de la Torre Sánchez during a recent presentation of Ducray's new Keracnyl line of skin treatment products developed specifically for adult acne.
"Mexicans tend to have oily skin, so they are more apt to suffer from adult acne."
But while the breakouts of adult acne are just as emotionally devastating as teenage blemishes, the adult condition is very different from the adolescent ailment.
"Adult acne can be related to genetics, stress, hormones, diet or lifestyle choices, such as smoking or consuming alcohol," De la Torre Sánchez explained.
"And, as a rule, adult acne is harder to treat than adolescent acne."
De la Torre Sánchez, who has a private practice at the Hospital Ángeles in the Roma neighborhood, said that adult acne should be treated differently from teenage acne.
"Adult skin tends to be more sensitive and less resilient than an adolescent complexion," she said.
"And while adolescent acne usually attacks the T-zone around the chin, nose and forehead, adult acne strikes around the cheeks, jawline and neck area, what we call the U-zone."
De la Torre Sánchez said that the first step in treating adult acne is to establish a good skincare routine.
"You need to wash your face twice a day with a gentle cleanser like Keracnyl gel, which will remove bacteria and impurities without drying out your skin," she said.
"Using a harsh soap or washing or exfoliating more frequently will only aggravate the sebum cycle and throw your skin's oil production into overdrive, leading to more breakouts."
De la Torre Sánchez said that once skin is thoroughly clean, adult acne patients should apply a suitable serum or face cream, such as those in the Keracnyl line, that will protect against external elements and calm inflammation and irritation while reducing the appearance of dark spots (a common consequence of adult acne) and helping to prevent the development of tiny lines and premature aging.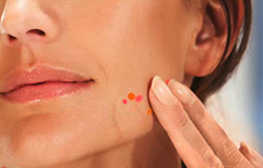 The application of any acne treatment should be followed by the use of a daily sunscreen to prevent UV exposure, which can not only increase breakouts, but can lead to skin cancer, she said.
For mild to moderate cases, there are any number of over-the-counter products to treat adult acne.
Key ingredients to look for include glycolic acid, salicylic acid, benzoyl peroxide and sulphur.
For heavier breakouts, topical medications such as a retinoid, derived from vitamin A, can significantly improve the skin, but should only be used under a doctor's supervision.
Curbing your consumption of French fries and other greasy foods will help, as will getting a good night's sleep and steering clear of heavy drinking and smoking.
De la Torre Sánchez said that to be sure to use cosmetic and beauty products that are hypoallergenic and to try to avoid touching your face, which will only encourage the development of bacteria and the occurrence of infections in the most prone areas.
"Squeezing pimples and blackheads doesn't help at all and can do more harm than good, increasing the degree of inflammation and the risk permanent scars," she said.
"It may be hard, but try to resist the temptation."
If your adult acne persists or gets worse, do seek medical attention, de la Torre Sánchez said, since it could be an underlying symptom of a more serious medical problem.
"Your skin is your body's largest and most visible organ, and it can be a bellwether of other health concerns," she said.
"Once you have ruled out that there is no hidden cause of your breakouts, you can develop a simple and practical routine to help control your acne without harming your delicate adult skin."
WHAT'S NEW
Concealing Secrets
If you have dark circles under your eyes or serious blemishes that just seem to show through your best foundation attempts to hide them, the San Francisco-based cosmetic firm Benefit has three new industrial-strength Boi-ing concealers that are up to the job. Specifically formulated to solve specific makeup needs, this dynamic trio includes a matte Boi-ing Airbrush Concealer that blurs, smooths and camouflages as good as any photo-shop retouch, with a 10-hour waterproof formula that won't crease, cake or crack. Going for a more natural and radiant look? Boi-ing Brightening Concealer covers without dampening your natural glow. And for a quick touchup or lighter coverage, there is Benefit Boi-ing Hydrating Concealer that visually erases blemishes and dark circles while moisturizing dry, irritated skin. All three concealers come in three shades, light, medium and dark, and all are guaranteed to withstand perspiration and tears, so you can look blemish-free all day long.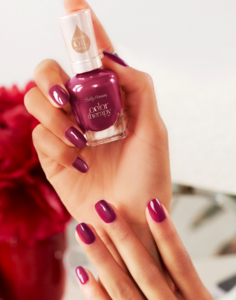 Hand Therapy
Sally Hansen, the Number One nail and handcare brand in the United States, has released a new line of nail polishes with the moisturizing power of argan to help keep cuticles healthy and to prevent dry, brittle nails. Available in more than 30 gorgeous shades, the new Color Therapy collection has a patented argan oil formula that fuses intense nourishment and instant moisture for healthy looking nails. The two-coat (no-base) polishes, when sealed with the Color Therapy Top Coat, lasts up to 10 days with fade-proof, chip-proof extended wear. There is also a Color Therapy Nail & Cuticle Oil that can be applied daily to improve cuticles and slow their growth, which translates into less trips to the manicurist. Sally Hansen also has a Miracle Gel collection that gives your nails a salon gel effect without the UV lamps and Insta-Dri line for quick polish jobs that dry in no time flat.
Mature Beauty
The Mexican pharmaceutical company Laboratorios Romer, which has been producing personal hygiene and beauty products for 65 years, has just launched a new line of high-end skincare creams aimed at the 45-and-over club. The Lanziangel collection, which is being fronted by Mexican singer and eternal beauty Angélica Lanzilotti, is being promoted as a rejuvenating, anti-aging combo that will help "women of a certain age" to show off their "mature youthfulness." The collection includes a moisturizing and sun-blocking day cream, a nutrient-packed firming and toning night cream enriched with shea butter and marine collagen, and a non-oily eye gel with a tightening Botox effect. All three products are currently available only at the Farmacia de Paris and Farmacia Soluderm, but should soon be on sale at large self-service stores nationwide.
Men's Haircare
American Crew, the first company to develop a male grooming line back in the early 1990s, has relaunched its hair and skincare products worldwide. And here in Mexico, the brand's founder, David Racchulia, flew in for the kickoff of the revamped collection, sold exclusively at style salons and barbershops. During a presentation at Revlon Professional's training center studio in Del Valle, Racchulia talked about how men's hairstyles have evolved over the course of the last 50 years, noting that American Crew has likewise progressed to develop products to suit changing style demands. The barber-cum-hair stylist-cum-entrepreneur noted that American Crew caters to men's lifestyle habits by keeping its products simple and multipurpose, such as its All-in-One Face Balm with a broad spectrum SPF 15 that not only soothes just-shaved skin, but moisturizes and protects against aging. American Crew's classic Pomade — inspired by the sweptback haircuts of Elvis-wannabes in the early 1980s — is still the company's star product, he said, although demand for American Crew Power Cleanser Style Remover shampoo and volumizing products is on the rise.
Fragrant Stories
After a 15-year hiatus, the exclusive French perfume line Annick Goutal is back in Mexico, available exclusively in Palacio de Hierro. Model and pianist Annick Goutal developed her first perfume, Eau d'Hadrien, in 1980 as a sensory interpretation of her favorite book. And each of the brand's subsequent 60-plus scents conveys a story through a cascade of notes that depict specific moments and places relevant to a narrative. Goutal passed away in 1999, and since then, her daughter, Camille, to whom she dedicated one of her fragrances, has continued the work of her mother to create fragrances, together with the perfumier Isabelle Doyen. For the moment, only about 20 Annick Goutal fragrances will be available in Mexico, but if demand is high enough, company executives said that additional AG perfumes, along with Goutal scented candles and body creams, may soon join the portfolio.
Travel Solutions
Just in time to present its new fall/winter collection, the Canadian-based luggage and accessory company Herschel Supply opened its first permanent showroom in Mexico this month in Bosques de las Lomas. The new, ultra-resistant collection — developed around a military theme — includes pieces made from Kevlar para-aramids, the same material used to make bulletproof vests and other body armor, which means that they will hold up to the wear and tear of travel and daily treks. There are also items with tiny laser-cut holes that allow the bags to breathe but keep their contents dry even in a rainstorm. The new collection focuses on neutral colors such as black, gray, navy blue and khaki, but there are also several items in military camouflage. Herschel's reps in Mexico also gave a hint of what to expect from the company for spring/summer 2018, when the sedate armed services theme will be replaced with a more lively Hawaiian motif, with brighter colors and perky flowery prints, accentuated with hula girls and ocean designs. Known for its tough-and-sturdy hipster retro backpacks and travel gear in classic styles with unexpected colors and texture combinations, Herschel also produces totes, handbags and wallets. The brand has recently expanded into the clothing market with jackets, ponchos and baseball caps.
A Taste of Mexico
Ever since Hacienda Los Álamos first began production of its premium tequila in Amatitán, Jalisco, back in the year 2000, it has been a big seller in the United States and Europe. But in the Mexican market, the brand's handcrafted, organic liquors have been practically nonexistent. In fact, up until just this month, less than 2 percent of Los Álamos' 40,000 cases of white, reposado, añejo and extra añejo tequilas produced each month were sold in Mexico. The reason for that, according to the company's head tequilera, Álvaro Montes Rivera, is the heavy taxes imposed by the government on all premium brands of alcohol, both national and international. But now, despite taxes that sometimes amounted to 72 percent of the tequila's gross costs, Los Álamos is beginning to open sales of its extraordinary products to niche markets nationwide (mostly at high-end dining establishments and through the internet). These tequilas, produced in stainless steel vats and, in the case of the reposados and añejos, aged in new American oak barrels, have a clean, agave taste with a hint of citrus and minerality, and the añejo (which is the best of the line, despite the higher cost of the extra añejo) is a delicious blend of leather, kitchen spices, orange rind and flint, without losing the rich blue agave flavor that is its base.
THE NEWS