ECLECTIC EPICURE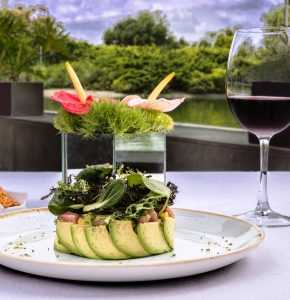 As fall approaches and the much-anticipated 15 de Septiembre Grito de Hidalgo is about to resound across the country, the upscale El Lago restaurant in Chapultepec Park has revamped its menu to help celebrate Mexico's Mes de la Patria (Month of Patriotism).
Focusing on traditional Mexican delicacies such as chiles en nogadas (a favorite seasonal dish that consists of steamed poblana chili peppers stuffed with a picadillo hash of ground veal, topped with a creamy walnut sauce and sprinkled with pomegranate seeds), red snapper baked in aromatic hoja santa anise leaves, and spicy turkey drenched in black Oaxacan mole, the new menu showcases the multiplicity and complexity of the country's diverse culinary heritage.
The updated menu also includes a variety of contemporary Mexican dishes, such fresh tuna slices marinated in mango and sesame seed sauce, cream of pumpkin soup with morita mushroom oil, duck raviolis in a huitlacoche mushroom sauce, and coffee and cacao crusted beef filet.
El Lago, which has been specializing in haute cuisine mexicaine and high-end international cuisine since 1964, has always strived to incorporate local ingredients from across the nation, both indigenous and assimilated, including nopal cactus, epazote, wild mushrooms and escamoles (if you don't know what they are, you probably don't want to order them), along with a variety of artisan cheeses from Baja California and Querétaro.
The restaurant, which offers guests a spectacular view of Chapultepec's Lago Mayor lake, also boasts a cellar of more than 300 labels of red, white and rosé wines, a full 33 percent of which are from Mexican estates.
There are also new chocolate-based desserts.
El Lago also has an impressive selection of tequilas and mezcals to accompany the Mexican bill of fare.
The new menu is available for both lunch and dinner, and El Lago also offers breakfasts and weekend brunches.
THE NEWS