WOMEN'S WORLD
Most women follow a basic beauty routine that involves cleaning, toning and moisturizing their skin.
But Mexican dermatologist and derma-surgeon Isela Méndez of the Clínica Dermatólogia Isela Méndez, says that they are still leaving half of the job of skincare unfinished.
"If you really want to take care of your skin — and you should, since it is your body's largest organ and one of the most sensitive and visible — you need to include a daily antioxidant and frequent applications of sunscreen," Méndez explained during a presentation of SkinCeuticals' new Phyto Corrective Masque, an intense, botanical facial that can be applied after nonsurgical procedures or at home to ease sensitivity, inflammation or irritation.
"Your skin is extremely sensitive, and there are a barrage of external factors that can aggravate it, including stress, diet, tobacco consumption, dry climates, contamination, free radicals and excess sun exposure."
Méndez said that virtually everyone — men and women, young and old — should be applying a daily antioxidant treatment such as SkinCeuticals' Phloretin CF (for oily skin), C E Ferulic (for dry and sensitive skin) or Resveratrol B E (a nightly serum that supports skin's natural antioxidant defenses and improves the appearance of radiance).
Free radicals are essentially molecules in the body with unattached electrons, and they can do serious cellular and mitochondrial damage to skin and other organs.
These molecules are unstable and are basically in search of electrons to steal from other molecules.
This is known as oxidation, and is the same process that you see in tarnished silver and browned apples.
In these cases, the free radicals have latched on to electrons from the metal and fruit, so the silver and apple begin to erode or decay.
So if a substance is oxidized, it has lost electrons to another substance.
The exact same process occurs in your skin, when free radicals grab electrons from the molecules of healthy cells.
Antioxidants, such as vitamin C, vitamin E and resveratrol (that anti-aging substance found in red wine and its derivatives) act to prevent some of the damage.
They basically work by giving up some of their own electrons to the free radicals so that your body's molecules do not have to.
"UV rays, pollution, stress and environmental factors all generate free radicals, which in turn damage the DNA in the skin, leading to possible fine lines, wrinkles, brown spots and sagging," Méndez said.
"Antioxidants work by absorbing and neutralizing these free radicals to prevent damage to the skin."
Méndez said that antioxidants are the skin's first defense against aging, and sunblocks, which protect against UV rays, are its second defense.
"Nothing ages skin like the sun," she said.
"Every dermatologist in the country will tell you that using sun protection is essential, but most people don't bother to apply it on a daily basis, and even those who do tend to use too small an amount and not reapply throughout the day."
Méndez said that you should apply about a shot-glass full of broad spectrum SPF 50+ sunscreen at each application, and reapply at least every three or four hours, not only to prevent premature aging, but also to avoid skin cancer.
There are two basic types of sunscreens, chemical and mineral.
Mineral sunscreens use zinc oxide or titanium dioxide to help shield your skin from the sun, while more traditional chemical products rely on substances that absorb the sun's rays and help diffuse their potential burning effect.
Both types of sunscreen are effective, but mineral sunscreens, such a SkinCeuticals' Physical Matte UV Defense, can be more expensive and often leave skin with a ghostly white cake.
Chemical sunscreens, on the other hand, are more likely to cause skin irritation and are not recommended for children under 12.
In the end, it is usually a matter of personal preference, but products that use a combination of mineral and chemical protection are probably your best bet.
"And don't think that because you are not at the beach or ski resort, you can skip the sunblock," Méndez said.
"The closer you are to the sun, the more UV exposure you get, and Mexico City is a lot closer to the sun than Acapulco. In fact, airplane pilots are particularly prone to skin cancer because they are up there closer to the sun."
Having a daily skincare regimen is key to a healthy and youthful complexion, Méndez said, and that routine needs to include twice-daily makeup removal, cleaning, toning and moisturizing.
But unless you are also including the important steps of protecting with antioxidants and sunscreen, you aren't taking care of your skin properly, she said, and the consequences can be premature aging, or worse.
"You only have one skin, and it has to last you all your life," Méndez said.
"You need to put in the effort to take care of it, and that means following all the essential steps of skincare, including applying antioxidants and sunscreen."
 More information:
Isela Méndez' dermatological clinic is located at Calle Plinio 118B in Polanco (tel: 5280-7256 or 5280-4218),
For more information, consult the webpage www.iselamendez.mx.
WHAT'S NEW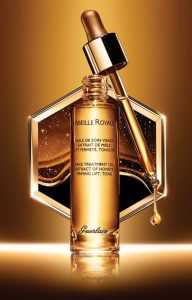 Honeyed Oil
Guerlain has added yet another addition to its Abeille Royale line of beauty treatments sourced from organic royal jelly, the most precious substance produced by bees, known for its healing and soothing powers. Abeille Royale Huile-en-Eau is a concentrated elixir of specific honeys that instantly promote a firm, tone, sculpted appearance. Huile-en-Eau can be used alone or mixed with day or night creams or even with makeup. It can also serve as a primer for lipsticks and foundations. Huile-en-Eau combines the richness of oil with the freshness of water to nourish skin and leave it invigorated. The exclusive Abeille Royal formula uses honey from the Quessant black bee, which is never exposed to fertilizers, pesticides or other artificial chemicals. The soft textured oil is absorbed instantly into the skin so there is no sticky residue.
Tighter Pores
Uriage's new Hyséac Purifying Mask helps deep-clean oily and problem skin with an energetic green clay that helps absorb excess sebum, eliminate blackheads and tighten pores, leaving skin clear and shine-free. Enhanced with Uriage's mineral-rich eau thermal waters from the French Alps, Hyséac's gentle and effective formula also helps to reduce redness and create an even skin tone while improving texture and increasing your complexion's natural radiance. The soothing softness of prickly pear cactus extract acts to slow the sebum production cycle without drying out skin. Pores are visibly tightened and your face is left with a matte glow that lasts all day.
Legendary Scent
The French men's fragrance line Carlo Corinto has just released an updated version of its classic scent, L'Homme. The new L'Homme is a sensuous citric gourmand for the innovative contemporary man who wants to write his own legacy and be remembered for his essence. This enticingly captivating and provocative eau de toilette is elegant and seductive, with a delicious burst of bergamot, apple blossom, lemon and lime in its opening notes. L'Homme's heart is more woody, with Indian red sandalwood and Moluccan nutmeg mixed with hints of wild lavender. The fragrance closes with warm and lingering notes of amber, vanilla and violet leaves. Even the packaging of the revamped Carlo Corinto L'Homme is new, with a sleek crystal flask of soft fern green fluid in a discreet olive green and black box with cold inlaid lettering.
Hello Again
She's been around since 1974, but that cute little feline, Hello Kitty, seems to have a lot more than nine lives when it comes to staying power. And Sanrio, the company that markets her worldwide, is rebranding her yet again in Mexico, centered around a picnic theme. Hello Kitty, whose full name is Kitty White, can be found in just about everything you can think of, from children's perfumes and teen makeups to kiddie T-shirts and school supplies. No longer restricted to the domain of the teenybopper club, her image is also appearing in diamond jewelry and haute couture fashion items. And she recently teamed up with Wonder Woman for a mutual promotion campaign in Hollywood. Her latest line of products in Mexico includes a range of furniture and a children's mini-coupe. Kitty may still be young at heart, but she certainly knows how to live the good life.
Fun Makeup
Tonymoly, the Korean sensation that has been creating teenage beauty products in innovative packaging with adorable little panda figures and Pokeman Pikachu faces, as well as fruit and vegetable tubs, has opened its fourth store in Mexico inside the Oasis shopping mall in Coyoacán. Also known for its snail-based, shark-fin-enriched and gold-infused face creams, Tonymoly came to Mexico in 2015, when it opened its first shop in the Zona Rosa, quickly followed by a store in Vallejo and one in Acoxpa. Tonymoly, which has as its motto, beauty should be fun, has more than 3,000 stores in 28 countries, especially in Asia and Russia, but it is now making inroads in the U.S. and Latin American markets.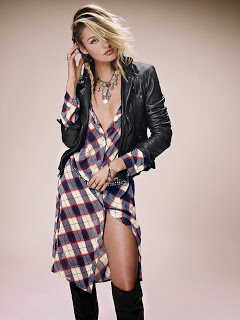 Retro Fashion
Renowned Mexican fashion house Julio will be releasing its new fall/winter collection at the end of July, and recently invited a group of style journalists to get a sneak peek at the line. The collection is divided into four subgroups, Retro Chic, Evocative, Origins and Roots. Drawing on the explosive colors and styles of the 1970s, Retro Chic has a mod British schoolgirl appeal, with fitted pant suits in oversized geometric black and white prints paired with bright oranges and yellows blouses. The more sedate Evocative line combines macramé knits in royal ocean blue with somber black floral prints for an easy day-to-night style. The Origins group is more focused on flower-child hipness and bohemian glam with big plaid dresses topped with lemon yellow overcoats accentuated with bulky golf tee buttons and black leather fasteners, all combined with block heel shoes. The Roots line is all about natural minimalism, and keeps it simple with an black and white color scheme, updated with contrasting textures and prints, with striped skirts matched with polka dot blouses and a laser-cut bucket bag. The collection also includes a small selection of silver chain necklaces and earrings. The entire collection will be available in the brand's 94 stores across Mexico and 11 stores in Columbia.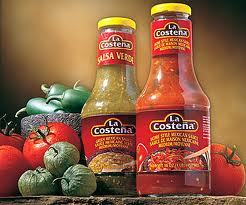 Sabor Mexicano
The Mexican food giant is on a worldwide campaign to promote Mexican food through its four varieties of salsa: green, ranchera (red), chipotle and avocado, and to help spread its message. It has enlisted the support of one of the country's leading chefs, Ricardo Muñoz, owner of Azul y Oro and Azul Condesa. "Mexican food is all about salsas," Muñoz said during a media presentation to introduce the campaign. "But most people today don't have time to make homemade salsas, so they can use La Costeña's sauces to give their food a true sabor mexicano." Las Costeña has been producing canned and bottled Mexican food items since 1923 and its products are now distributed across 40 countries worldwide.
Pulse of Life
Now it is easier to keep tabs on your blood pressure and other vital signs, or those of a loved one, with Braun's new VitalScan 3, a fully automated wrist blood pressure monitor with an easy-to-read display that has been clinically tested for accuracy. VitalScan 3, with a universal cuff size that adapts to any person, can store up to 90 memories, detect irregular heartbeats, advise when to change batteries and provide averages of the last three measurements to deliver a reliable and ample control of cardiovascular health. Compact and lightweight, the VitalScan 3 is discreet and handy for outside-the-home, on-the-go monitoring of systolic, diastolic and pulse values. It can also be linked to the Braun Healthy Heart app.
THE NEWS