WOMEN'S WORLD
The numbers are staggering: One in every eight Mexican women will develop breast cancer in her lifetime.
Even more disturbing is the fact that, according to the Mexican Health Secretariat (SSA), the majority of those women — almost 90 percent — will have their disease detected in late stages (either stage three or stage four), which means that they will have to undergo radical mastectomies.
(As of 2006, the disease is ranked by the SSA as the second-largest cause of death for Mexican women, and the secretariat further reports that every two hours, a Mexican woman dies of breast cancer.)
And of the more than 70,000 Mexican women who are diagnosed with breast cancer each year and who have a unilateral or bilateral mastectomy, less than 10 percent will receive reconstructive surgery.
Many of these women simply aren't good candidates for the surgery because most radical mastectomies require removing the entire breast and much of the surrounding tissue, which makes reconstruction either very difficult or impossible.
But more often than not, they do not have reconstructive surgery because their public- or private-sector insurance does not cover it.
Consequently, their only alternative is to use an external prosthesis, and while that may seem like a simple process, it is a lot more complicated that most people realize.
In the first place, the prosthesis itself can be quite expensive, costing between 2,000 and 7,000 pesos for a silicone form resembling the shape and weight of a natural breast. (Again, these devices are not covered by most insurance providers.)
And even with regular care — daily hand-washings, the avoidance of the use of deodorants, perfumes and other chemical substances and gentlest of handling — most external breast prostheses have an estimated life of about two years.
Add to that the cost of continued treatment, follow-up care and medications, and the price of maintaining a quality prosthesis can be overwhelming for many breast cancer patients.
"Most people think that once a patient has undergone surgery and come out the other end, the ordeal of breast cancer and a mastectomy is over," explained Jacqueline Beuchot González de la Vega, head of public relations for the nonprofit Mexican Foundation for Breast Cancer (Fucam), which provides medical, psychological and occupational assistance to about 1,000 breast cancer victims each year.
"But, in fact, this is a trauma that these women are going to be living with the rest of their lives. And much of that trauma is psychological."
Perhaps one of the biggest problems women with mastectomies in Mexico face is finding appropriate lingerie to accommodate the silicone form of their prosthesis.
"It is almost impossible to find bras in Mexico made for a breast prosthesis," said 48-year-old Yuly Pérez Martínez, a one-year survivor of the disease, speaking at an event organized by Fiorentina (the high-end line of Mexico's largest intimate wear conglomerate, Diltex) to announce the lingerie company's 2016 Un Bra por un Bra (A Bra for a Bra) campaign, which provides complementary prosthetic brassieres to underprivileged women for bras purchased in the month of October, which is the World Health Organization's (WHO) International Breast Cancer Awareness Month.
"The majority of department stores and intimate wear shops just don't carry mastectomy bras. And those that do have a very limited stock, with bras that look like something your great-grandmother might have worn."
Another Fucam patient, who has been cancer-free for nearly four years following a unilateral mastectomy, agreed: "There are a couple of places in downtown Mexico City that sell mastectomy bras," she said, "but they are usually really ugly and don't fit that well."
While some women find that their ordinary bra, sports bra or sports crop top adequately support their prosthesis, mastectomy bras are specially designed for this purpose.
These bras are cut wider under the arm, across the chest and in the straps.
"It is important for the patient's health and comfort that the prosthesis and bra fit correctly," said Fiorentina brand manager Gabriela Riviello, who is overseeing the Un Bra por un Bra campaign.
"Most mastectomy patients should not use just any bra. Their bras have to be extremely soft, with no wire under-cups, and they should be made of natural fabrics so that they are easy to wash and won't chafe delicate skin."
Additionally, mastectomy bras should have a small pocket on the outside of the cup where the prosthesis can be inserted.
"The pocket protects the prosthesis from wear and tear and keeps it in place so it doesn't slide out," said Riviello.
"A good mastectomy brassiere should also support and shape the remaining breast."
"We have to wear both a mastectomy bra and a prosthesis because if we don't, our spinal column can become unaligned and we can develop back problems," said Pérez Martínez.
Ideally, a mastectomy bra should fit close to the chest wall between the cups and have a high front at the center, with elasticized, adjustable, comfortable straps.
It should also have reasonably thick sides that don't cut into the skin and help to minimize slipping or movement of the prosthesis.
"But there is no reason why a mastectomy bra has to be unattractive or unfeminine," said Riviello.
"For the last four years, we have worked closed with breast cancer victims and organizations that support them to design and develop a special Vida mastectomy bra that is both comfortable and functional, while at the same time sensual and feminine."
The Fiorentina Vida brassiere, which is also available for sale in the company's boutiques, is made of pure pink or white, hypoallergenic cotton with a delicate satin trim at the top.
"This is the first mastectomy bra that I have found in Mexico that makes me feel like a woman again," said Pérez Martínez.
"That may sound insignificant, but when you lose your breast — a symbol of your sexual identity — you tend to lose a sense of your own femininity."
Riviello said that her company has always had a strong commitment with women and has long worked with programs to help battered women and breast cancer patients.
Between Oct. 4 and Oct. 24, Fiorentina will donate one of its specially designed mastectomy bras for every bra purchased in its boutiques or online store, she said.
The company expects to donate about 2,000 mastectomy bras this year through the Fucam program.
Last year, it donated just over 1,500 bras.
Riviello said that, in addition to providing breast cancer victims quality lingerie, the Un bra por un Bra campaign is aimed at creating more awareness about the disease and encouraging women to get annual mammograms.
"We believe every woman should feel beautiful and sexy, and this campaign of buy-a-bra-give-a-bra is our way of helping women who have had mastectomies rediscover and relish their feminine beauty," she said.
"Women need to feel good about their bodies, and just because they have had a mastectomy does not mean that they are any less sexy," added Fucam's Beuchot González de la Vega.
"With the right underwear, any woman can be beautiful and sexy."
WHAT'S NEW
Sensuous Combo
The Spanish luxury design house Loewe has launched a duo of new fragrances, Loewe 001 Woman and 001 Man, both developed under the creative direction of designer Jonathan Anderson. The 001 Woman fragrance reinterprets the scent of a skin caress, a deep, tender and appealing perfume. The top notes include a bright, sparkling and fresh citrus, Italian bergamot and Calabrian tangerine mixed with a pink pepper zest. At the heart is narcotic Egyptian jasmine blended with the smell of clean linens and a hint of sandalwood. The sensuous eau de parfum closes a flourish of amber and vanilla with white musk. The accompanying Loewe 001 Man also has bergamot, mandarin and sandalwood, but is infused with the masculine scents of cardamom, vetiver, cypress, ambrette, essence of violet and patchouli. Individually, these fragrances project two intriguing personalities, and together they create a third scent of a well-matched couple that perfectly complement one another.
Hybrid Beauty
Always on the cutting edge of skincare and cosmetics, Dior has just introduced a new Capture Totale DreamSkin Perfect Skin Cushion, a compact sponge moisture BB cream and foundation makeup hybrid that visually improves redness, shine and the appearance of pores, leaving skin looking flawless and luminous. This complexion perfecting liquid-to-powder features the correcting genius of DreamSkin within a portable case to activate, enhance and protect skin with a powerful, broad spectrum SPF 50. On application, the product fuses with the skin to unify in transparency to leave your face refreshed, luminous and beautiful. To create this revolutionary formula, Dior combined two active ingredients from the label's exclusive gardens, longoza and opilia, both of which contain anti-aging and protective properties that combat lines, dark spots and dullness. The orange-red longoza fruit from Madagascar encapsulates cell regeneration, and opilia from Burkina Faso helps beautify and balance the skin's natural pH. And as an added bonus, every purchase comes with a complementary refill for the compact.
Naval Call
Old Navy has released its new fall line, with light but warm styles that include great seasonal transitional pieces that excel in taste and comfort. The inexpensive collection combines fashion essentials and trendy items that feature longer lengths and sleeves that are perfect for this time of year. There are soft fleece pullovers, tailored jackets and stylish cardigans that are ideal for layering, plus a selection of fun, swingy tunics, blouses and dresses that create chic, flowy movement yet still help block a chill in the air. These staple-worthy separates are available in on-trend colors and cool patterns that are on point. This warmer theme has even been extended into the label's fitness pieces and pajamas. The mix-and-match collection allows you to pull together strong and wearable signature ensembles by blending several key pieces with your existing wardrobe. You can mix things up and style a cool aviator or bomber jacket with virtually anything from a midi-dress to pants. The slenderizing boot-cut jeans dominate in Old Navy's fall/winter agenda to add a fun flare to sweaters or knits. Bold florals and tartan patterns are matched with denim jackets or a monochrome skirt for a clean, hip look.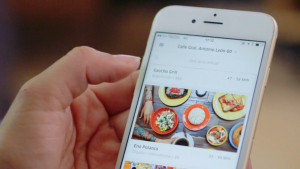 Meals on Wheels
Uber, the U.S.-based multinational transportation company that has revolutionized the global personal driver and car service industry, has just expanded into the food delivery sector in Mexico, offering an app (available for both iPhones and Androids) that allows clients to order meals from more than 500 Mexican restaurants. UberEATS can be linked to your Uber car service account, making payment easier and allowing you to watch the progress of your meal's delivery in real time. UberEATS is definitely a delicious add-on to Uber's service portfolio.
THE NEWS