BY JEFF GORDINIER
The New York Times
At Salare, a restaurant in Seattle, Edouardo Jordan serves winter squash with fried okra and a seed-based sauce modeled on the egusi stews of Nigeria.
In "The Up South Cookbook" by New York City author Nicole A. Taylor, collard greens are cooked Japanese style, with a coating of sesame dressing.
And in California, chefs create swoon-inducing and deeply personal takes on shrimp and grits at places like Brown Sugar Kitchen in Oakland, 1300 on Fillmore in San Francisco and Willie Jane and Post & Beam in Los Angeles.
Across the country, a new generation of black chefs and cookbook authors has been reinventing, reinterpreting and reinvigorating what's thought of as African-American food. Their work is part of the culinary development and self-discovery that has been going on for decades — centuries, really — but for anyone sampling their handiwork now, it's clear that we're in the middle of a belle époque.
All sorts of revolutions in African- American cooking have been building momentum. Especially on the West Coast, age-old conventions of soul food and Lowcountry cooking are getting a fresh take via farm-to-table philosophy and contemporary technique. (David Lawrence of 1300 on Fillmore cooked with Marco Pierre White in London; Govind Armstrong of Willie Jane and Post & Beam apprenticed in Wolfgang Puck's Spago when he was a teenager.)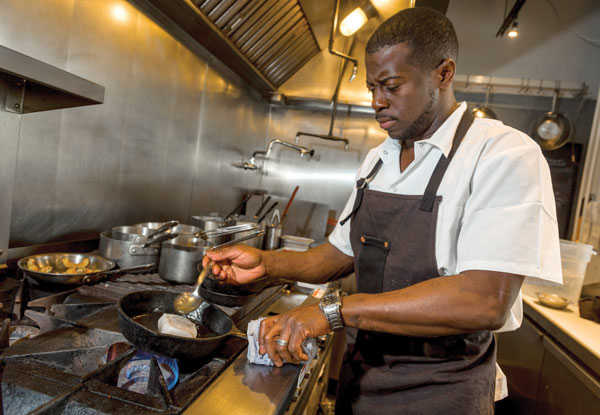 At Salare; the Cecil in Harlem; the Grey in Savannah, Georgia; the Fat Ham in Philadelphia and Sbraga & Co. in Jacksonville, Florida, (both from chef Kevin Sbraga), the menus explore and pay tribute to the food of the African diaspora — the ingredients and ideas that the people of Africa carried all over the world for centuries.
Of course, black gastronomes have been enriching and expanding American cooking for many years. But to observers like Frederick Douglass Opie, a professor who specializes in food history at Babson College in Massachusetts, the lack of mainstream media attention calls to mind Ralph Ellison's novel "Invisible Man."
"His whole book is about how people don't see me," said Opie, the author of "Hog and Hominy: Soul Food From Africa to America." "That's the same thing with black chefs and black writers."
The question "Where are all the black chefs?" increasingly comes across as silly, and it's not just because of stars like Carla Hall and Marcus Samuelsson.
"We're here," said Mashama Bailey of the Grey, a restaurant that was built from the ruins of a once-segregated bus station.
Like many of her contemporaries, she's digging into old cookbooks and developing personal ways to showcase the roots of American cuisine. One example: She places eggplant at the center of a peanut stew whose prototype is found in West Africa.
Those roots are on display even more prominently at the Cecil, where the flavors of Africa, the Americas, the Caribbean and Asia merge in dishes like gumbo, beef suya on skewers, oxtail dumplings and a collard-green salad with spiced cashews and coconut dressing.
"It's always been a rallying cry for me," said Alexander Smalls, the chef, entrepreneur and social powerhouse behind the Cecil. "The idea that black folks cooking are only making soul food is frightening. What we have to say is much bigger than that. It's our job to expand the conversation. People need to be enlightened."
Joseph Johnson, the executive chef at the Cecil and Minton's in Harlem, spent a month doing research in Ghana before the Cecil opened in 2013. "I came back here a changed man," said the chef, who goes by JJ. He now builds flavors from an Africa-inspired version of the French mirepoix: his involves bird's eye chilies, onion, tomato, garlic, shallots and ginger.
Culinary schools tend to be highly Eurocentric, so chefs who decide to explore the food of the African diaspora are often self-driven. "You have to ask yourself, 'Where does this come from?'" Smalls said. "You have to walk backward through some slave markets and an ocean or two. You have to follow the African trail to really understand our vision."
At Salare in Seattle, Jordan is fashioning "a different expression," he said, one that merges the cucina povera of Italy, the Southern and Caribbean flavors that he picked up during his childhood in Florida and a growing interest in his African roots. "When I began the process of opening Salare, a little bird kept singing in my head, 'Embrace your heritage,'" he said.
That heritage manifests itself in different ways. He turns toward his childhood with a dish involving duck leg with dirty rice. The twist? He uses Arborio rice and whips up a kind of dirty risotto. "I take duck livers, hearts and gizzards and sauté them with celery, onions, peppers, espelette chili, tons of black pepper, habanero and spices to make the dirty base," he said.
And he looks further back in a dish of parsnips with yogurt and pickled sultanas. Before being grilled, the parsnips are rubbed with a tsire spice mix reminiscent of West Africa. "I'm hearing more about the spice trade in Africa," Jordan said. "It's new for me."
But ideas about the foundations of African-American food are not new, necessarily, for anyone who has spent time with the works of authorities like Opie, food historian Jessica B. Harris and the late chef and cookbook author Edna Lewis, among others.
In her groundbreaking 2011 book "High on the Hog," Harris explores the countless ways in which what's commonly known as "American food" can follow its lineage to Africa and the slaves who did much of the cooking in the New World. American food "in many ways belongs to African-Americans, because we were the stewards and the caretakers of the whole enterprise for so long," said Smalls of the Cecil.
One afternoon in San Francisco, Jay Foster, the chef and owner of Farmerbrown, pointed to a bowl of vegetarian jambalaya and said, "That would be impossible if I didn't go to the farmers' market three times a week." Over the years he has spent a lot of time, he said, "digging into soul food and where soul food came from. And lo and behold, it comes from farms."
His muse? Lewis, the grande dame of rootsy American cooking. "She has this phrase, 'What grows together goes together,'" he said. "I should get that tattooed on my forehead, because that's exactly how I think."