ECLECTIC EPICURE
Malbec, malbec, malbec. That is the impression most people have of Argentine wines.
And with good reason. The signature, flagstone purple grape — with its intoxicatingly fruity bouquets and heady earthy flavors — currently accounts about a third of the Latin American country's overall wine production and exports.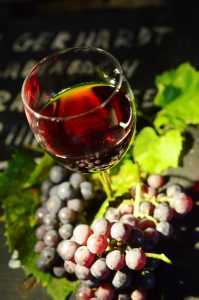 In fact, about 70 percent of all malbec wines produced worldwide come from Argentina.
In the last 20 years, the once largely disparaged and maligned malbec grape (even the name is pejorative: "mal bec," French for "bad break") brought to Argentina's western Mendoza province by French immigrants in the early 18th century, has won global renown for local vintners and have even begun to edge out the tango as the country's national icon.
But earlier this month, the Institution of Wines of Argentina (WOFA) set out to break the stereotype that the gaucho country's wines are all about malbec with a daylong wine-tasting festival at the St. Regis Hotel.
 "Argentina is renowned for its malbecs, and with good reason, as well it should be," explained Rogelio Rabino, chief enologist for the Kaiken Estate in Mendoza, where malbec is king.
"The thin-skinned black malbec grape — a rustic relative of the merlot — adapts perfectly to Argentina's terroir, with ample sunshine and a dry climate to thrive."
But Rabino said that while the malbec grape is tantamount to Argentine wine production, the country also has other fantastic varietals, including chardonnays, cabernet sauvignons, shirazes and torrontés.
And to prove his point, he offered a seven-wine tasting of predominantly non-malbec Argentine wines to a small group of Mexican wine enthusiasts and critics.
The tasting was divided into two sessions, the first of four wines with no accompaniments and the second with three wines paired with canapés prepared by Mexican chefs Diego Niño of Nexo Wine Bistró and Koracio Armendariz of Bistró 83, who recently returned from a gastronomic tour of Argentina.
First up was a rosebud pink 2016 Alpamanta Breva Rosé from Mendoza made from 100 percent syrah grapes fermented with indigenous yeasts in cement vats.
This wine was sweet on the nose, with a hint of tea roses, and had a sharp acidic rhubarb and berry tang in the mouth that didn't disappoint.
The next wine was a 2016 Breva Sauvignon Blanc, also from the Alpamanta Estate, with a light golden hue, a high alcohol content (14.1 percent) and a four-month pedigree of used oak with lees (residual yeast) that gave it a woody bouquet with fresh vegetable undertones.
In the mouth, the vegetables clearly dominated, underscored by suggestions of eucalyptus and white pepper and basil.
Wine Three was a 2015 Kaiken Ultra Cabernet Sauvignon — also from Mendoza and also with a heap of alcohol (14.5 percent) — that had spent 12 months in new French oak casks.
The ruby red Kaiken Cabernet was full of ripe red fruits and currants with soft, warm tannins and a mellow vanilla and tobacco finish.
The last wine of the first tasting session was a silky 2012 Kaizen Mai — the token malbec of the group — with a seductive aroma of red fruits and balsam which, unfortunately, were overpowered by too much wood in the mouth, the result of an 18-month stint in new French oak barrels.
After a brief break, the second round of the tasting began with what would be the star of the evening, a 2013 Manos Negras Torrontés from Argentina's Salta region that was bursting with the scent of grapefruit, cantaloupe and white flowers.
On the tongue, the intensely yellow Manos Negras had a rich and enduring lactic quality that closed with a delightful lychee and nutmeg flavor.
This wine — which was a stand-alone masterpiece of vinternership — was regrettably paired with a slice of pork drenched in black chichilo (a sort of unfinished mole sauce) that not only subjugated the delicate nuances of the torrontés, but gave it an unpleasant sourness.
Next came a buttery 2013 Zuccardi Q Chardonnay from Mendoza's Valle de Uco, with an asparagus and mineral nose and a taste of herbs and wild yellow flowers.
It was paired with a cabbage roll bathed in green peppers and chilies, and this time, although the dish itself was not particularly appetizing, the match was very appropriate.
The sharp vegetable roll brought out the earthy herbal flavors of the chardonnay.
The final wine presented was a well-balanced 2013 El Esteco Cabernet Sauvignon from the Calchaqui Valley with an intense dark color and potent fruity aromas that had been fermented in both French and American oak and was imbued with an aura of cedar and blackberry flavors.
This multifaceted wine had a veritable symphony of tastes and aromas ranging from black pepper and oak to musky truffle and flint that overlapped and melded together to create an opus magnum of sensations.
It was served with a slice of red snapper with Oaxacan mole that complemented the gastronomic complexity of the cabernet.
"Argentina is proud of its vast variety of wines, but so many people in Mexico don't look beyond malbecs when they think of Argentine wines," said Rabino.
"What we want to do is introduce them to other Argentine options and show that we can hold our own in an entire range of varietals."
Argentina is the world's fifth-largest wine producer, cranking out 2.67 million metric tons of reds, whites, rosés and sparkling wines each year.
THE NEWS