LABBOUNEH, Lebanon — With their Kalashnikovs and Iranian-made anti-aircraft missiles pointing outward, the uniformed Hezbollah militants peered at a group of journalists from an orange grove in a village on the border with Israel, unflinching as they were photographed with their bare faces.
"No photos!" a Hezbollah official ordered after almost all had taken pictures of the unusual peacetime scene, a signal to the fighters that they should move away from plain view.
Thursday's odd encounter was part of a media tour of south Lebanon that was organized by Hezbollah to offer insights into the defensive measures taken in the past year by Israeli forces along the southern frontier in preparation for any future conflict.
The choreographed outing also was clearly meant to send a strong message to Israel: Hezbollah is here and ready in case of a war.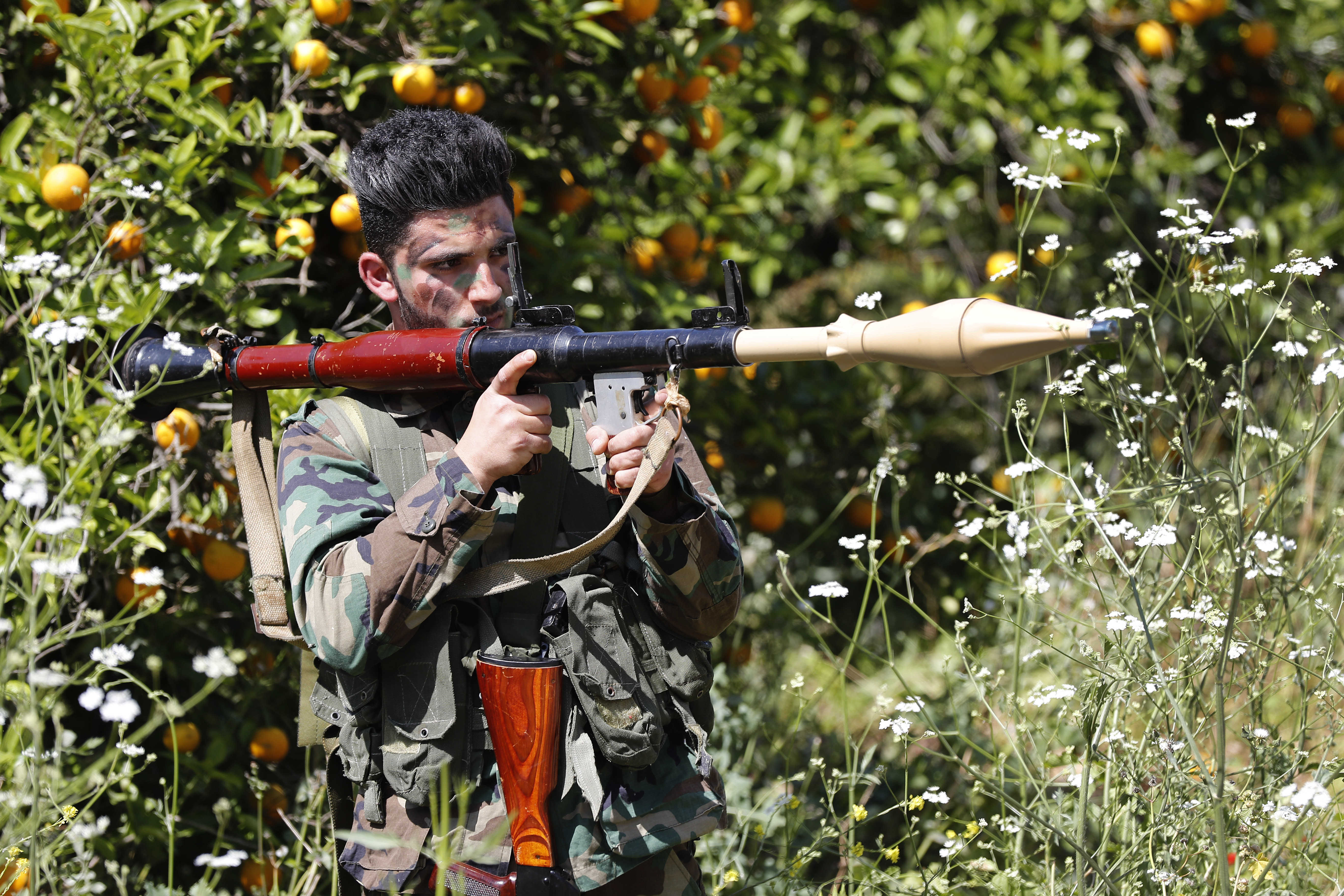 The tour, put together by Hezbollah's media office, was the first since an inconclusive monthlong war with Israel in 2006. It came amid heightened tensions along the border between the old adversaries, with each side promising to inflict massive casualties on the other in any upcoming conflict.
In the past month, Israel has unveiled a plan to evacuate up to a quarter-million civilians from border communities in case of attacks from Hezbollah or other Islamic militant groups. It held a drill at a base in northern Israel simulating a Lebanese village and an urban warfare environment that Israeli troops struggled with in 2006.
Israel has also built up its missile defenses, unveiling earlier this month a joint U.S.-Israeli interceptor to counter medium-range rockets possessed by Hezbollah.
Hezbollah chief Hassan Nasrallah has said the group is not seeking a resumption of hostilities but vowed that if war did begin, his forces would strike Israel's Dimona nuclear facilities. Hezbollah officials also have signaled that the next war will involve fighters infiltrating Israel's northern settlements.
At the border Thursday, Hezbollah officials were keen to point out it is Israel that is preparing for war, showing journalists a series of fortifications made by Israeli troops across the border in the past year to guard against anticipated Hezbollah infiltration, including huge concrete blocks, barbed and electrified fences, and deep trenches carved in the valley.
Standing at the border in Labbouneh, near the coastal town of Naqoura, a Hezbollah officer in uniform and sunglasses said the measures highlight the changes in Israel's calculations.
"For the first time in this enemy's history, it is switching from an offensive to a defensive doctrine," the man who identified himself as "Ehab" told journalists. He then rattled off the names of Israeli settlements across the horizon — Shlomi, Hanita and others — as well as the names of brigades and Israeli commanders to show his military knowledge of the area.
Hezbollah spokesman Mohammad Afif then pointed across the border.
"This big city you see right there is Haifa, it's not that far from us… Nahariya, Acre and Haifa — they're all a stone's throw away," he said.
The Labbouneh site was one of three border points visited Thursday on the U.N.-drawn "Blue Line," including a point right across from a large Israeli surveillance post and radar at Jal al-Alam.
The tour, under the gaze of U.N peacekeepers based in the border town of Naqoura, sometimes took on a theatrical nature. At one point, as journalists walked near an Israeli surveillance post, two Italian U.N. peacekeepers came running up the hill, shouting for the group to stop taking photos — apparently taken by surprise that such a large group was so close to the usually deserted frontier.
The Lebanese-Israeli frontier has been mostly quiet since the 2006 war, which broke out after the Iranian-backed militant group's guerrillas crossed into Israel and captured two Israeli soldiers. The ensuing conflict killed about 1,200 Lebanese, most of them civilians, and 160 Israelis.
The war ended with a U.N. resolution that created a buffer zone which was supposed to be free of Hezbollah militants.
Brig. Gen. Ram Yavne, head of the Israeli military's strategic division, said the latest show of arms was "more blunt" than usual, but violations of the U.N. resolution are nothing new.
He said the border tour was primarily a message of "mutual deterrence" with Israel and that while Israel takes the threat seriously, Thursday's show of force would not change the overall "calculus."
"I don't think this organization is in a very comfortable situation these days," he said. "Its leadership absolutely understands the cost of an escalation."
Israeli officials say Hezbollah has significantly upgraded its capabilities with a larger, more sophisticated arsenal since the 2006 war. While largely staying out of the Syrian civil war, the Israeli military has carried out a number of airstrikes against suspected arms shipments believed to be headed to Hezbollah.
Hezbollah, which is fully immersed in the Syrian war and has lost more than 1,000 of its fighters there, clearly has no appetite for a fight. But Salem Zahran, a Hezbollah-aligned analyst on the tour, said another war between the two was inevitable and was tied to the Syrian conflict, where there have been flare-ups with Israel in the Golan area south of Damascus.
The next war will not take place only on Lebanese territory, but also in Syria and "inside occupied Palestine," Zahran said.
He said Hezbollah wanted to send a message through the tour, in case Israel was preparing for war. "The message is I see you, and I have another scenario for you."
ZEINA KARAM