For Eric Alberto Aldana, who works at the Fantasías Karina store, the run up to La Candelaria is a welcome break from selling backpacks. From January 6 through February 2, Eric and his boss Karina sell outfits for the Niño Jesús.
"We're here the whole month," he says. "But it's the last week that gets really crazy."
Though La Candelaria is celebrated throughout most of Latin America, it is most fervently adored in Mexico. Adults wander through the streets, hugging their Niño Jesus tight to their chests.
Each year there is an explosion of temporary markets housing short-term stalls that offer to clothe, repair, and clean your Niño Jesús. These stalls are bolstered by a variety of others, all competing to sell manger-scene must-haves that adorn any respectable nativity scene, including ceramic animals, hay, and the carved wooden manger.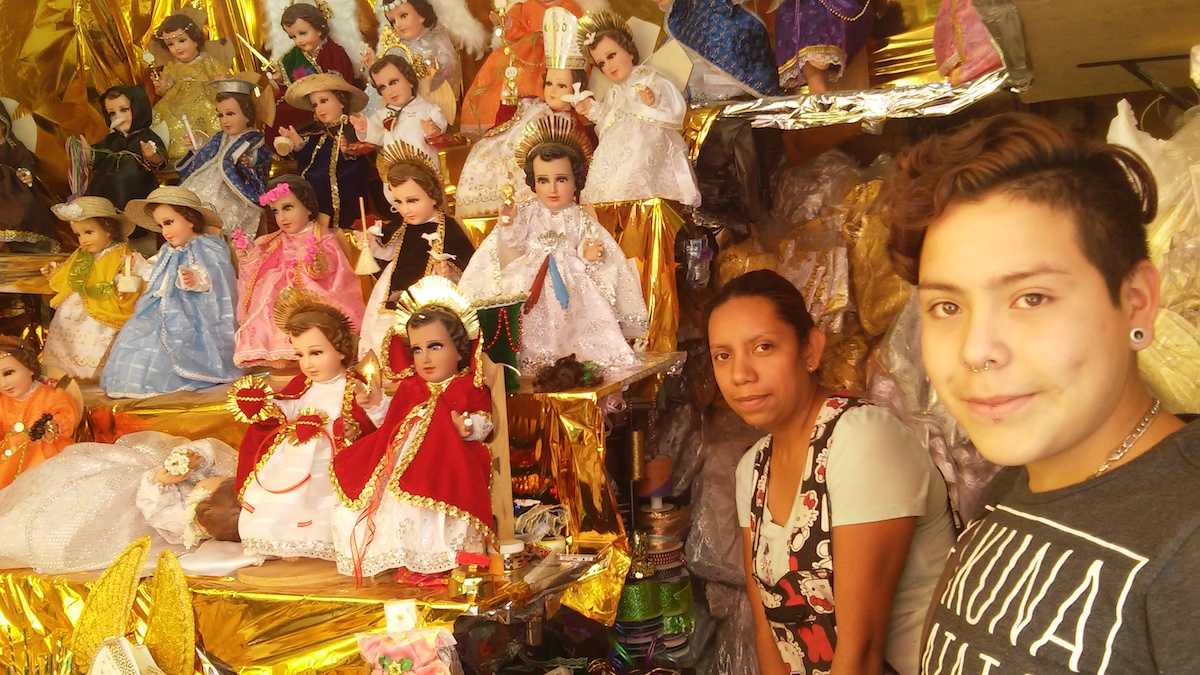 La Candelaria, officially known as the Celebration of Our Lady of Candelaria, has been celebrated for over 500 years. Niño Pa, Xochimilco's venerated image of baby Jesus is over 430 years old itself. Held February 2, the day officially marks the point that Virgin Mary was "cleansed", 40 days after the birth of Jesus. On this day, the baby Jesus is presented to the Temple of Jerusalem.
In Mexico, another slant is added, as those who found baby Jesus figurines in their Rosca de Reyes bread on Three Kings Day must make tamales for everyone else that was present. While the social aspect is important, the fashion of Niño Jesús is vital too.
Manuel Piñero Carmona, another shopkeeper at the market close to Calle Manzanares, says that compassion (misericordia) is the popular theme this year. Plush colors sit alongside the pristine, but simple, white clothes that the Niño Jesús traditionally wears first.
Though the regal outfits form the majority of the stores' stock, there is also room for alternative styles. Some Niño Jesús figures, dressed in doctor's and surgeon's uniforms and even accessorized with a tiny face mask, are popular with people that have sick family members. Though we couldn't find the outfit itself, Eric also told The News that uniforms of gas pump attendants have been a particular hit this year, in support of the "gasolinazo" protests.
The connection between the gas price hike and La Candelaria does not end there. This year's festival has been affected by the increased cost of gas, as hydrocarbon is used in the figurines' production.
Though the market remained busy, prices of the Niños had increased since last year forcing many people, like Alicia Cortez Salza, to repair, rather than replace, their figurines.
"They're very important to us as Mexicans," she said. "We are traditional people and we are proud of our traditions."
Alicia's two Niño Jesús have been in the family for a very long time. One of the figurines, dressed in orange, is over 20 years old. Her mother, she says, has used the same Niño Jesús for 35 years.
Asked why she continued to use the same Niño Jesús, she replied: "They are important because they have been with the family for a long time. They're a memory and a history. We must celebrate the birth of the baby Jesus."
This sentiment is echoed by Yolanda González, who runs a stall repairing and servicing the figurines and charged between 150 to 300 pesos to ensure that they're spick and span. "The [old] Niño Jesús have value. It doesn't matter the size, it's about the link to the family."
Though the streets close to between Manzanares and Jesús Maria will be quiet tomorrow and the price of gas may increase, the tradition of the Niño Jesús isn't likely to cease. They'll be there again next year.