NEW YORK – An abstract painting of lynching victim Emmett Till on display at the Whitney Museum of American Art in New York was the subject of a weeklong protest by a black artist Parker Bright who decried the canvas as "an injustice to the black community" because it was painted by a white woman.
Parker Bright spent several days this week standing in front of the painting by Dana Schutz, who used historic photographs as inspiration for her depiction of Till, a 14-year-old black Chicago boy killed by white men in Mississippi in 1955.
At the Whitney, a protest against Dana Schutz' painting of Emmett Till: "She has nothing to say to the Black community about Black trauma." pic.twitter.com/C6x1JcbwRa

— Scott W. H. Young (@hei_scott) March 17, 2017

Till's mother insisted on an open-casket funeral to show the world the mutilated body of her son, and Jet magazine published photos of his corpse. The brutality sparked outrage that helped galvanize the civil rights movement.
In an interview published Thursday in Artnet News, Schutz said that when she made the painting last year, it was a response to "a summer that felt like a state of emergency."
"There were constant mass shootings, racist rallies filled with hate speech, and an escalating number of camera-phone videos of innocent black men being shot by police," she said. "The photograph of Emmett Till felt analogous to the time: what was hidden was now revealed."
Bright, who engaged onlookers in conversations about "Open Casket," argued in a Facebook Live video that "Schutz doesn't have the privilege to speak for the black people as a whole or for Emmett Till's family."
"No one should be making money off a black dead body," he said, demanding that the curators remove the painting from the biennial exhibition.
Bright's protest found supporters online. Berlin-based British artist Hannah Black sent the biennial curators a letter lambasting Schutz for using "black pain as raw material." She called on the museum to destroy the painting.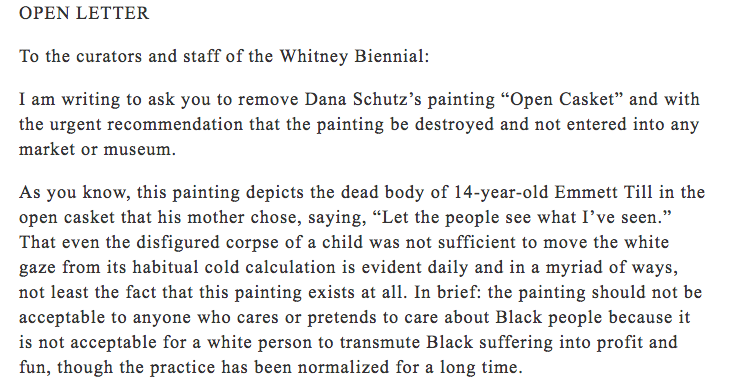 Whitney curators Mia Locks and Christopher Y. Lew, both Asian American, defended their inclusion of Schutz's "unsettling image" in the show.
"By exhibiting the painting we wanted to acknowledge the importance of this extremely consequential and solemn image in American and African American history."
Scott Rothkopf, the Whitney museum's chief curator, said the museum took pains to publicly acknowledge the controversy.
Schutz, who didn't respond to interview requests from reporters, said in a statement provided by the museum that "Open Casket" was an effort to "engage with the loss."
"I don't know what it is like to be black in America. But I do know what it is like to be a mother. Emmett was Mamie Till's only son. I thought about the possibility of painting it only after listening to interviews with her," she wrote.
She dismissed accusations of trying to profit from Till's killing, pledging that the painting "was never for sale and never will be."
The controversy was the subject of false news reports. Several websites circulated a bogus letter purporting to be from Schutz calling for the painting to be removed.
The 2017 Whitney biennial exhibition is on view until June 11. It features the work of 63 individuals and collectives, about half of whom are female artists and about half are non-white.
ALINA HEINEKE