More than a million vehicles will face new restrictions on driving between April 5 and June 30. The temporary modification of the Hoy No Circula program will affect cars with hologram numbers zero and double zero, according to the Megalopolis Environmental Commission (CAMe).
The measure applies to the 16 boroughs of Mexico City and 18 municipalities in the State of Mexico. The new measures will also affect motorcycles and will restrict driving on Saturdays for some cars.
The Federal Environmental Secretariat is evaluating the possibility of applying similar measures in other cities, but the Megalopolis Commission is not considering it.
"Given that 88 percent of air pollution is caused by mobile sources, we are restricting the circulation of vehicles with all hologram numbers," said Martín Gutiérrez, head of the CAMe.
The CAMe also announced the removal of the environmental precontingency and its replacement with the Phase 1 Contingency. The Phase 1 Contingency will go into affect when the Metropolitan Air Quality Index (Imeca) rises above 150 points, and will consist of reducing vehicular circulation by 40 percent and polluting industrial activity by between 30 and 40 percent, temporary closing all asphalt plants that don't have emissions control teams, and closing all gas stations and suspending gas carburizing.
The Phase 2 Contingency will take affect when there are more that 200 perts per billion of ozone or particulate matter. Vehicular circulation will be reduced by 50 percent, and restrictions on circulation will also apply to the 375 thousand vehicles with federal plates, 150 thousand of which circulate in the Valley of Mexico. Industry will be required to reduce emissions by 60 percent.
Vehicles not affected by the restrictions include school transportation, public transportation, transportation of dangerous materials, police and natural gas-powered vehicles.
For local public transit, and to fulfill passenger demand, there will be an effort to restrict the circulation of contaminating taxis and contaminating public transportation. The government of Mexico City will sanction drivers who violate the restrictions.
Gutiérrez said that the 874 gas carburizing stations will be removed from service, unless they have gas recuperation systems.
The National Environment Secretariat (Semarnat) presented a plan for medium to long-term management of air quality in the entities that make up the CAMe, which are Mexico City, the State of Mexico, Hidalgo, Morelos, Puebla and Tlaxcala. The entities will organize into work groups to revise regulations in order to reduce air pollution.
The CAMe also announced a 40-million-peso investment to improve the pollution monitoring system, in order to prove the extent of pollution.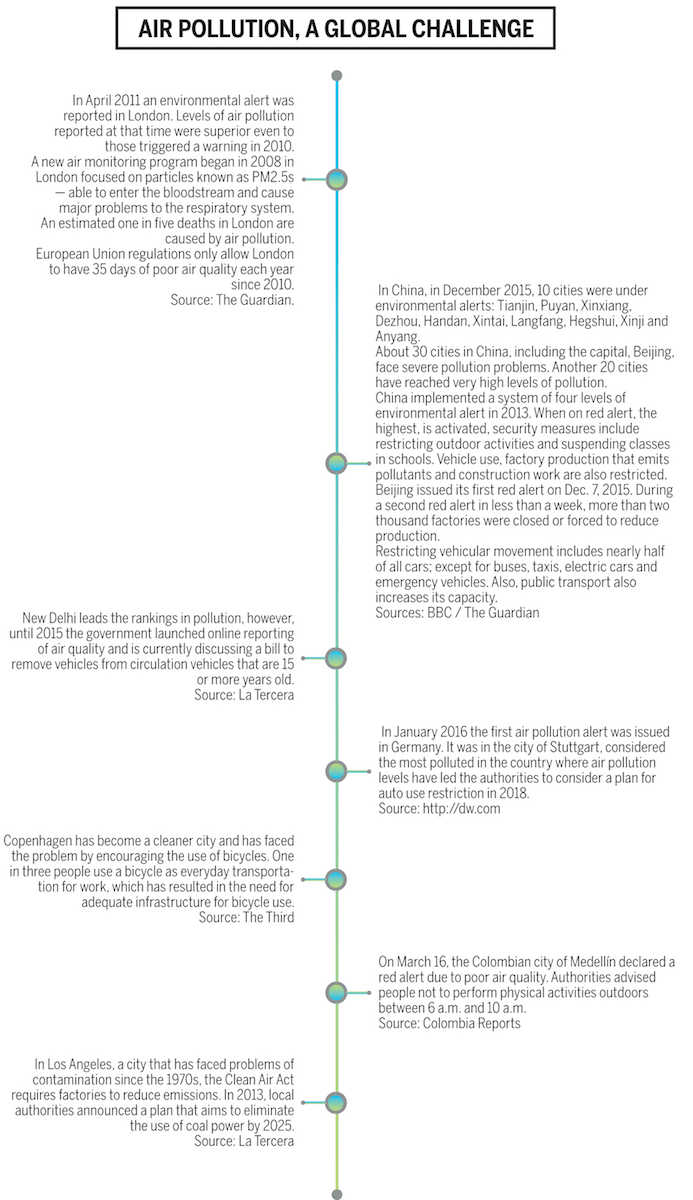 THE NEWS