The classic film "Nosferatu" will be musicalized in a live show by former members of the Mexican band Santa Sabina.
The famous vampire story, a key piece to understanding German Expressionism, will be shown at the Teatro de la Ciudad, accompanied by a live performance of former members of the legendary band, who will meet to perform a 90-minute song.
"Nosferatu: Una sinfonía del horror," (Nosferatu: A Symphony of Horror) is the pretext for the Sabinos to meet on Sept. 25 at 6 p.m., and add music to the classic 1922 film directed by F.W. Murnau.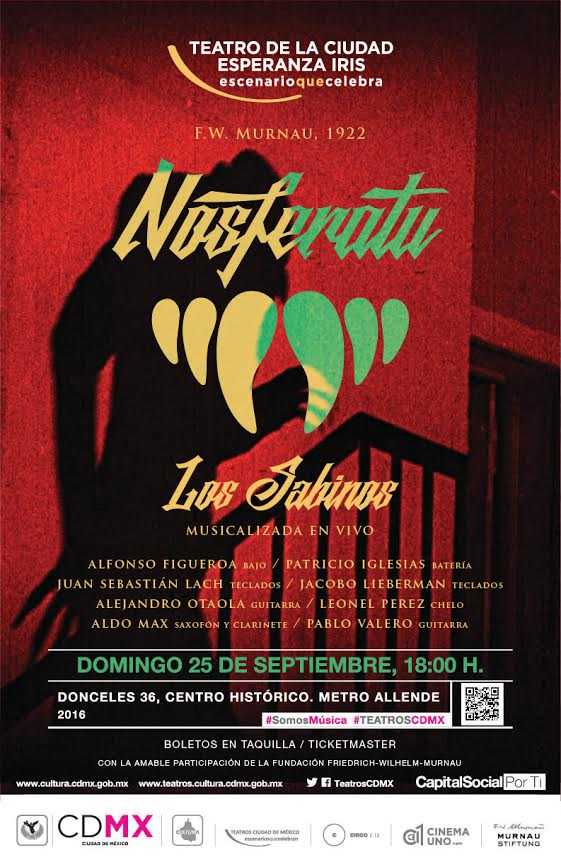 During a press conference, Alonso Figueroa, Patricio Iglesias, Alejandro Otaola, Jacobo Lieberman, Pablo Valero and Leonel Pérez said that the band will perform new versions of Santa Sabina songs, transforming them into instrumental versions.
"We got the last fully-edited copy of Nosferatu. It is a version that was lost during World War I and which was found piece by piece. It wasn't re-edited until very recently. It is a fundamental part of German Expressionism. We didn't know we composed music for horror films until now," said Figueroa.
He added that the band had help from various people who were responsible for applying for the appropriate permission for the projection of the film.
Rehearsing for the show, Lieberman was reminded of the time when Santa Sabina was started, in 1988. He said that they met with former singer Rita Guerrero, who passed away, to create their songs.
"We are retaking musical moments from Santa Sabina's history and we also wrote original songs for this performance. There will also be opportunities for us to improvise," said Otaola.
According to Figueroa, the show is an opportunity for the band to break away from Santa Sabina tribute shows and to create a new proposal without renouncing their past.
"In the last version of the band we were called 'Ecos de Santa Sabina.' One day they called us 'Santos Sabinos,' which is appropriate because we come from there. Now there are people who are gone, like Rita. I don't know if this will remain a fixed line-up, but I'm enjoying it," said Iglesias.
Using jazzy elements and gothic overtones, the band managed to make their shows something resembling a ceremony, a sacred act that they consider unique, as there is a lot of improvisation.
The band hopes that Santa Sabina fans will know about this project and that the new generations can listen to this iconic band, which is now more alive than ever.
The show will take place on Sunday, Sept. 25, 6 p.m at the Teatro de la Ciudad.
The entrance fee ranges from 120 to 450 pesos.
ROBERTO CORTEZ ZÁRATE