QUITO, Ecuador — The hand-picked candidate of socialist President Rafael Correa held an easy lead Monday in Ecuador's presidential election, though authorities said it might be a few more days before they determine if he won enough votes to avoid a runoff against his nearest rival.
With more than 90 percent of polling stations reporting late in the day, ruling party candidate Lenin Moreno had slightly over 39 percent of the votes cast Sunday, compared to 28 percent for former banker Guillermo Lasso, the closest contender among seven opposition candidates.
To avoid a runoff, and continue a decade-long streak of leftist rule in Ecuador at a time the rest of South America has tilted to the right, Moreno needed to win a majority of the total vote, or to have a 40 percent share while holding a 10-point lead over his nearest rival.
An overnight vigil by Lasso supporters outside the National Electoral Council stretched into Monday, and they said they would stay until every vote was counted and a runoff was confirmed. By afternoon, the crowd had grown to a few thousand who held up signs warning of fraud and shouted anti-Correa slogans as riot police looked on
"Ecuadorean people: You have won. We're going to defend this victory," Lasso told supporters in a video message in which he urged protesters to stay firm and guard against being provoked. He said he had called several regional presidents and the head of the Washington-based Organization of American States to denounce what he charged were "fraud attempts" that he did not specify.
Even before the first vote results were released Sunday evening, Moreno had declared himself the winner based on inconclusive exit polls and he called on Lasso to recognize defeat. He later softened his stance while addressing supporters late Sunday, but said he was confident he would cross the required threshold once all the votes were counted.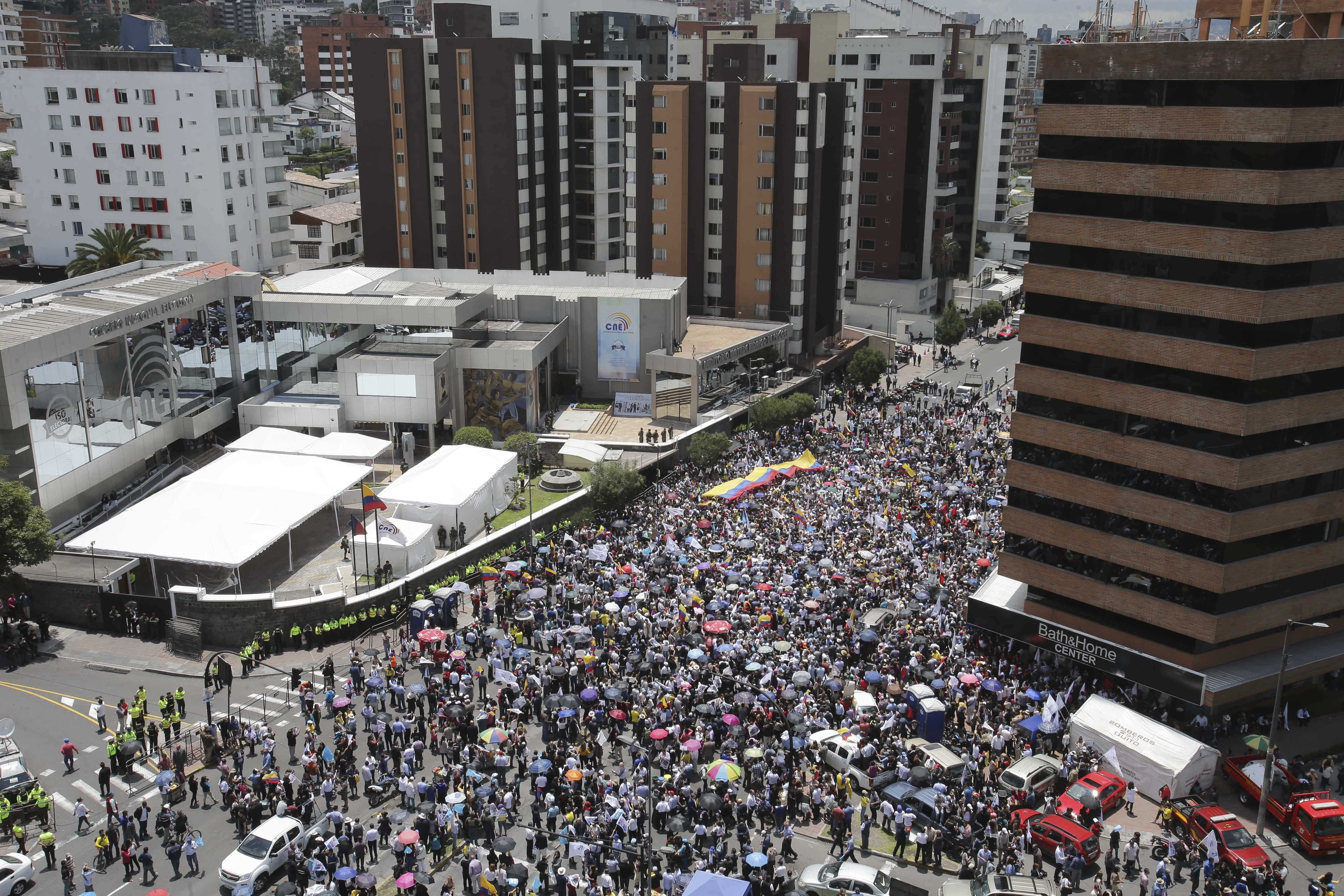 "I have faith we'll reach 40 percent," he said before breaking into song.
Lasso showed no sign of throwing in the towel even as Moreno's lead widened, with more than 1 million ballots still left to count. Electoral authorities appealed for calm, saying Monday that it could take three days to sort through inconsistencies on tally sheets and late-arriving ballots from remote rural regions and Ecuadorean consulates abroad.
"We'll see each other again April 2 at the ballot box and fight for the Ecuadorean people's support," Lasso said a news conference.
The outcome was being watched closely in Latin America, where conservative leaders in Argentina, Brazil and Peru have assumed power in the past 18 months after the end of a commodities boom that boosted leftists like Correa.
Correa, a self-declared "21st century socialist" who took office in 2007, ushered in a period of stability after a severe economic crisis that saw three presidents toppled in protests and the adoption of the U.S. dollar to control rampant inflation. But he also drew criticism for his authoritarian approach.
In addition, once flush government budgets have been slashed and thousands of people at state-run companies laid off as oil revenues for the OPEC nation declined. The International Monetary Fund expects Ecuador's economy to shrink 2.7 percent this year.
GONZALO SOLANO