Move over Donald J. Trump.
Now you've got competition in global social media circles for the title of tweetstorm master.
Yes, what Trump did for Twitter, Slovenia's president, Borut Pahor, is now doing for Instagram.
Pahor, who once worked as a fashion model (just like his paisana Melania Trump), boasts no less than 22,000 dedicated Instagram followers (representing about 1 percent of the little Central European nation's total population), who faithfully monitor his ongoing barrage of selfies with everyone from super model Naomi Campbell to Russian President Vladimir Putin.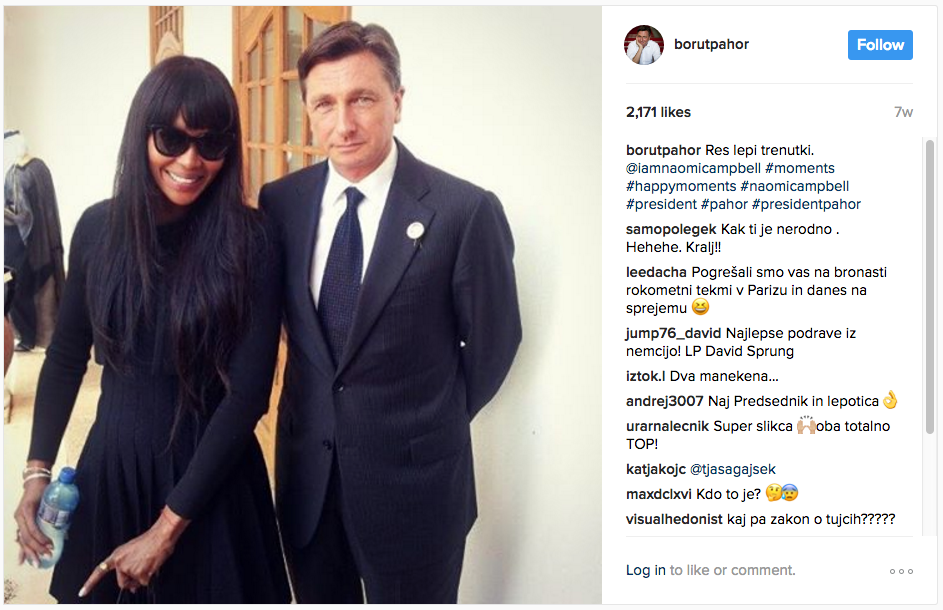 On average, his pictorial posts get about 2,000-plus likes each, and Pahor, who was elected to office in 2012, has a 62 percent positive rating and is expected to easily win reelection in October.
And maybe it is that commonness of purpose and governing style that could turn Trump and Pahor into tweet buddies.
Pahor apparently thinks so.
He has already offered to act as a diplomatic go-between for Trump and Putin, using his Instagram popularity to facilitate U.S.-Russian relations.
(How exactly that would work is hard to tell, but no doubt could be explained in 140 characters or with a suitably revealing topless pix of Pahor.)
But for all his Instagrammable bravado, Pahor is making his mark on the European geopolitical landscape.
Last month, he met with German Chancellor Angela Merkel to discuss a post-Britain European Union, and with Putin himself to try to quell Moscow's mounting aggressions in Ukraine.
He also met with Ukrainian President Petro Poroshenko, where his political statesmanship helped ease growing concern that the West was abandoning Kiev.
"I don't have any formal mandate," he was quoted as saying about his ambitious transnational diplomatic venture.
"In the case that I would achieve something — even a small step — I would be very happy."
And if Pahor were to succeed in bringing Trump and Putin together, be it either geographically or philosophically, we would all be hearing about it on Twitter and Instagram.
Thérèse Margolis can be reached at [email protected]