MEXICO CITY – Look to your right: There's the Pillar of Light, a towering monument shaped like a vanilla wafer cookie. A company was allegedly allowed to overcharge the equivalent of millions of dollars for steel used in its construction.
Look to your left: A sculpture commemorating 43 teachers' college students who were "disappeared" in 2014 in the southern state of Guerrero, by police officers allegedly in league with drug cartel thugs and corrupt local officials.
This is the newest addition to the ubiquitous open-air tour buses crisscrossing Mexico City each day: The Corruptour, which instead of taking folks to historic plazas and churches, shines an unflattering spotlight on the murky world of graft.
"The goal is to awaken Mexicans' consciousness about the problem of corruption, which is so serious and seems to be getting more and more expansive," said Tania Sanchez, a 44-year-old volunteer guide. "It's about informing the people who ride about practices of corruption, illustrating it with the places we visit — only in a fun way."
Mexico ranked 123rd out of 176 countries on Transparency International's 2016 Corruption Perceptions Index, released last month, and people here commonly cite graft as a major concern along with other issues like security.
Corruption in Mexico runs the gamut from daily annoyances — a police officer shaking you down for a few bucks to avoid a traffic ticket, a city inspector demanding a bribe not to shut down a business — to shocking scandals involving government contracts worth billions of dollars.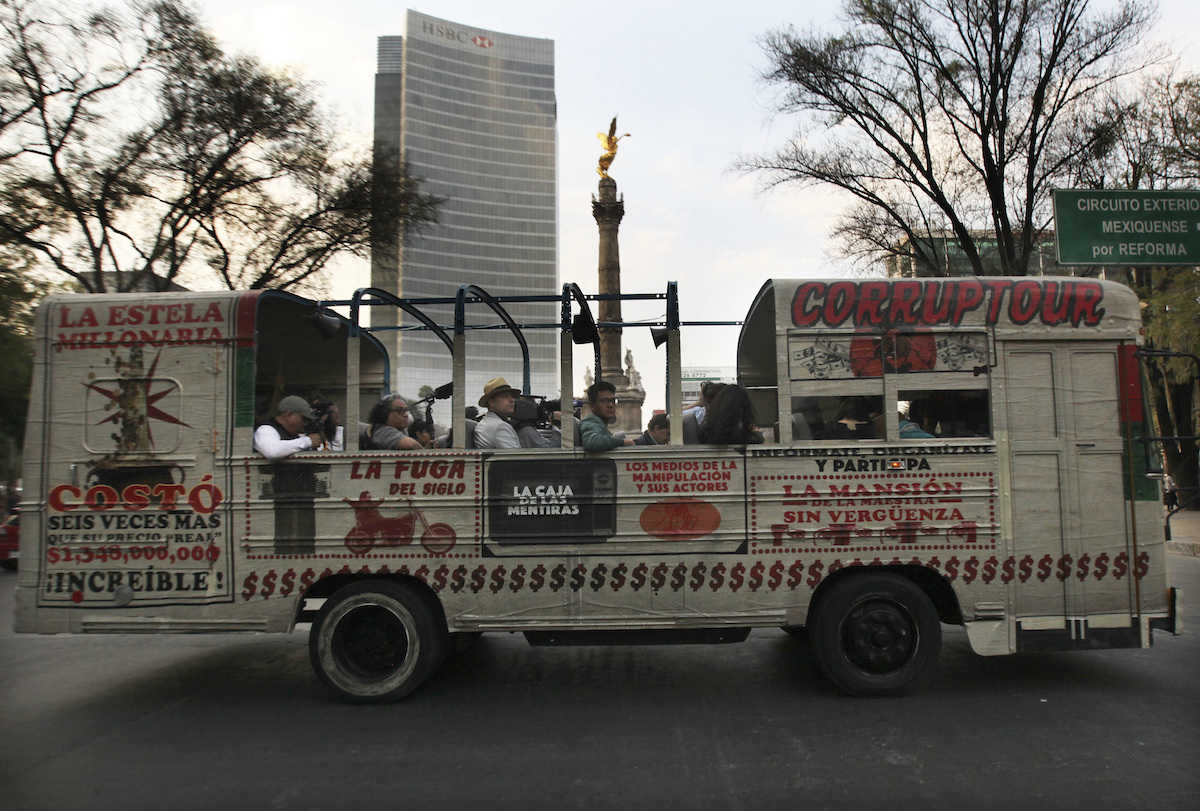 The Corruptour first launched in 2014 in the northern city of Monterrey. A week ago it began offering free, twice-every-Sunday runs through the capital, financed entirely by private donations and with what organizers say was an initial $5,000 budget.
During the 90-minute tour, recordings piped through speakers mock the seamy histories behind each of 10 stops. Guides invite passengers to share their own experiences with graft, and to discuss strategies to fight back. They also engage with bemused bystanders along the route, coaxing pedestrians and taxi drivers to join in chanting "No more corruption!"
Stephanie Montero, a 34-year-old medical worker from Cuernavaca, recalled how during her social service, "you saw how they gave us medicines that perhaps were not necessary, because some deal had been done with some company." Those ended up spoiling, while medicines in daily demand were in short supply, she added.
"I think (this bus tour) makes it more visible so that people know about it, and maybe it makes the politicians and the businesspeople who make these sorts of deals feel just a little bit bad," Montero said.
Corruptour's most notorious element —the so-called White House, a mansion provided to President Enrique Pena Nieto's wife by a construction company that landed lucrative public works contracts — isn't actually on the trip. Guides say it's too far from the starting point outside the National Museum of Anthropology; instead the bus goes to the neighborhood's edge so passengers get a taste for its fancy homes while they hear about the case.
Other "lowlights" include the Social Security Institute, where alleged malfeasance in medical spending is discussed; the national Senate; the Mexico City prosecutor's office; and the headquarters of the country's largest TV empire. Many Mexican media outlets rely heavily on government advertising, and critics say that makes them tame entities uninterested in holding the wealthy and powerful accountable.
The concept has also been tried outside of Mexico. In London, a "Kleptocracy Tour" was launched last year to take people to opulent estates owned by Russian oligarchs. In Curitiba, Brazil, there's a four-hour walking tour dedicated to a corruption scandal swirling around state oil company Petrobras. And for years, tourists have been shuttled around Medellin in Colombia to visit the former stomping grounds of the late drug kingpin Pablo Escobar.
Organizers of the Corruptour say they are in a three-month pilot phase to gauge interest and hope to continue beyond that. On Sunday both scheduled tours were full with dozens turned away. According to Corruptour's reservations webpage, the next trip with available space is April 2.
Adrian Emigdio, an 18-year-old college journalism student, was among the few who scored a spot last weekend.
"I think this is a great idea because many people don't know the places that are emblematic" of corruption, "Emigdio said. "I think this is a very agreeable, very fun tour with lots of information. … Above all, we have to raise awareness about what is going on in our country."
PETER ORSI