The Night Race, "All You Need is Run," is an athletic event organized by the UAEMéx Foundation whose goal is to collect funds for scholarships granted to high-achieving and underprivileged Autonomous University of the State of Mexico (UAEM) students.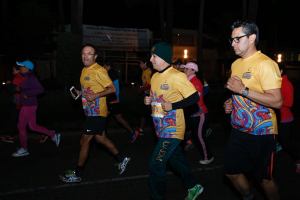 Over 1,300 runners participated in the 4k and 8k segments of the race which was inaugurated by UAEM Director Jorge Olvera García. Accompanied by heads of the Central Administration, Olvera García highlighted the importance of sports as a cohesive activity.
The starting point and finish line of the race were set at the Glorieta del Águila, located in the state's capital, where Executive Director of UAEMéx Foundation Mariana Sánchez Garay stated that the collected funds will be destined to national and international mobility scholarships.
Winners of the 4k race were Yahir Onofre Escobar, Emanuel Hernández Salazar, Daniel Juárez Sánchez, Guadalupe Zárate García, Jessica González García and Mónica Mondragón.
For the 8k race, competing in the Youth Category, the winners were Mauricio Guadalupe Gómez, Luis Villanueva Mejía, Camilo Gil Alcántara, Sofía Quintero Hernández, Flor Velasco Chávez and María del Carmen Morales Cruz.
The winners for Masters Category were Iván Salido Mendoza, Isaac García, Marco Antonio Figueroa Villegas, Vladimira Palma Linares, Leticia Pérez Morales and Alejandra Urbani Fernández.
The race was musicalized at all times by the UAEM Youth Orchestra under the direction of Hilda Saquicoray Ávila.