WOMEN'S WORLD
They are a ubiquitous part of Mexican culture that have survived and evolved over the centuries, and are as fashionable and adaptable today as they have ever been.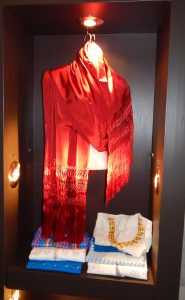 Shawls (or rebozos, as they are generally known as in Mexico) are a universal element of Mexican cultural heritage, worn by rural indigenous women and modern-day urban fashionistas alike.
"The rebozo is a fundamental Mexican garment that dates back to early colonial times, and it has evolved and adapted over the centuries to assimilate contemporary styles and tastes while still preserving its traditional roots," explained Miriam Gutiérrez, director de Color Mexicano, a small, family-run company that has been promoting Mexican shawls both nationally and internationally since 2011.
"Through Color Mexicano we are trying to show how the rebozo has become an iconic symbol of haute Mexican fashion and to foster a deeper appreciation of this very important national treasure."
Gutiérrez later explained that while the exact origins of the garment are debatable, most experts concur that its roots date back more than five centuries, having first been mentioned in 1572 when Friar Diego Duran called it the "mestizo garment par excellence."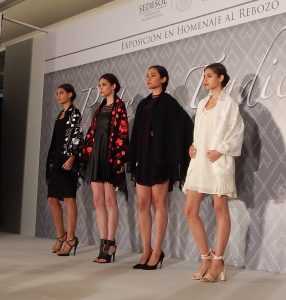 Historians believe the rebozo was the result of a cross between typical indigenous garments such as the ayat (a square piece of cloth that was wrapped around the body in Meso-American cultures) and the huipil a (loose-fitting tunic, generally made from two or three rectangular pieces of fabric stitched together with ribbons or strips of fabric), and the Spanish mantilla (a lace or silk veil or shawl worn over the head and shoulders, often over a high comb, particularly popular during the 18th and 17th centuries).
Consequently, Gutiérrez said, it was a fusion between traditional Spanish design and the colorful attire of the New World's indigenous cultures.
She also said that, over the years, each state has developed its own styles and designs in accordance with local tastes and materials.
In the southern state of Chiapas, for example, styles range from short red cotton pelisses with geometric patterns embroidered on the edges to long, silk and gold lamé mantles with intricate two-tone stripes.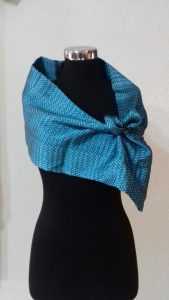 There are also thick natural wool wraps with red brocade and gauzy black shawls embroidered with rainbow-hued animal figures.
"Chiapas has one of the most diverse selections of rebozo styles and designs," Gutiérrez said.
"This is because it has a lot of different indigenous communities and each of them has developed their own textile traditions."
She went on to say that the rebozos in that state — along with other traditional garments — are often used as a means of expressing the wearer's geographic identity and social status.
Gutiérrez said that the rebozos of Chiapas often incorporate images of local animals and religious figures.
In the State of Mexico, on the other hand, loosely woven cotton and macramé shawls with a recurring pattern of monotone and two-tone stripes are common.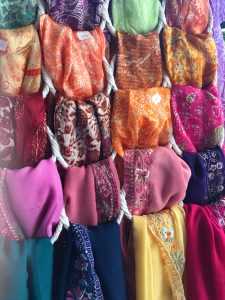 "The city of Tenancingo in the State of Mexico is one of the most important rebozo-producing regions in the country," Gutiérrez said.
"Traditionally, the shawls from this region are made from cotton, but in recent years, the local artisans have begun to incorporate new materials such as silk and metallic thread into their creations."
The rebozos from the southern coastal state of Guerrero are heavier with lots of floral embroidery in oversized patterns, while the shawls from the central state of Michoacán are full of batik-like prints and tiny pictorial needlepoint.
The rebozos of San Luis Potosí stand out for their intense and vivid colors, which Gutiérrez said were produced using natural dyes.
Shawls from Veracruz are often made from heavy wool and embroidered with bright geometric patterns.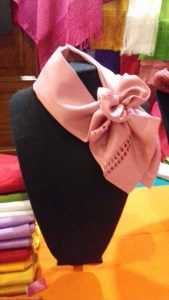 There are also Purépecha shawls encrusted with tiny feathers, which Gutiérrez said is a regional style that has now all but disappeared due to the complexity and exorbitant cost and energy required to produce it.
She added that one of the objectives of her company is to revitalize vanishing textile traditions such as the feathered shawl that are slowly disappearing as cheaper, mass-produced imports replace artisan handiwork.
"These extraordinary rebozos are a vital part of our national heritage and their styles and designs help to communicate the decorative art of the complex cultures in which they were produced," Gutiérrez said.
"We hope that Color Mexicano will help to highlight the beauty, skill and importance of that garment and help to revitalize a dying craft."
WHAT'S NEW
Twist of Beauty
The high-end French cosmetic and skincare firm Sisley will be launching a new addition to its Twist makeup collection next month, Phyto-Blush Twist. These easy-to-apply cheek colors, in four fabulous shades, have the intensity of a cream blush, the delicate softness of a powder blush and the innovation and handiness of a twist. Available in Petal, Fuchsia, Papaya and Glow (which acts like a highlighter to catch the light and give your face a kiss of radiance), Phyto-Blush Twist creates an instant boost of shine and color to help sculpt facial features in a single stroke, leaving a translucent finish. Its unique formula contains film-forming wax for even-toned results, plus micronized pigments for high intensity and staying power. Like all Phyto Twist makeup products (including Phyto-Lip Twist and Phyto-Eye Twist), this blush is enriched with shea oil and camellia oil for optimal comfort and a hydrating action, as well as vitamin E acetate to ensure the skin is cared for and comfortable. There is also a new Sisley Phyto-Touche Soleil bronzer with a trio of shades and a mini kabuki brush that will give your face a natural-looking sun-kissed glow all year-round.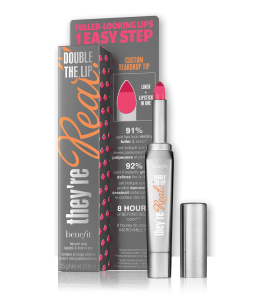 Double Pucker
Benefit's new They're Real! Double the Lip longwear colors give you thicker, fuller lips in a single stroke. The smart little tube has a duo liner and color combo with a custom teardrop. The deepest shade melts into the outer point of the lipstick to line the lips and prevent feathering, while the lighter shade simultaneously fills in and nourishes lips. Double the Lip leaves your lips seamlessly full and satiny soft. Benefit's Double The Lip lipsticks come in eight provocative shades ranging from Criminally Coral to Revved Up Red. And to complement those sensuous smackers, Benefit also has a new line of They're Real! Duo Shadows with two perfectly matched earthy shades and a swipe-on sponge that lets you apply and blend for a sensuous smoky effect. Both products were inspired by the brand's award-winning They're Real! Mascara and They're Real! Push-Up Liner.
Sun Defense
Heliocare — the Madrid-based oral and topical skincare line that protects against UVA, UVB and infrared (IR-A) rays through the use of Fernblock technology (developed at Harvard Medical School), based on a natural extract from a tropical Central American fern with strong protective and repair mechanisms against solar radiation — has introduced a new broad-spectrum SPF 50+ foam mousse called Airgel for ultra-sensitive skin. Heliocare 360° Airgel offers advanced daily photo-protection with 360-degree action to protect, neutralize, repair and moisturize skin. Recommended for all skin types, including oily and acne-prone skin, it is also suitable for people with of vitiligo, rosacea or other skin diseases. Heliocare 360° Airgel Sunscreen SPF 50+ absorbs quickly and provides effective protection against photo-aging and cellular damage through a special antioxidant formula green tea and vitamins C and E with immuno-protective action to help regenerate damaged cells. The light-weight can fits easily into pockets and purses for frequent reapplications throughout the day.
Snail Magic
If you are packing for a vacation getaway, don't forget to toss a couple of Endocare Tensage Concentrate ampoules into your makeup bag. These tiny little 2-milliliter flasks (10 ampoules to a box) can work wonders to revitalize and revive tired skin through a high concentration of SCA Biorepair Technology, a unique and natural complex of a snail-derived growth factor and other anti-oxidants. As skin ages, it loses many of its key elements such as fibroblasts, collagen, elastin and hyaluronic acid, leading to a loss of firmness, elasticity and smoothness and the subsequent appearance of fine line and wrinkles. Also, a decrease in blood circulation can cause skin to have a dull, non-radiant appearance. The growth factors of snail secretions have been scientifically proven to help reverse these early signs of aging. Endocare has harnessed SCA Biorepair with a serum of hyaluronic acids, hexapeptides and calcium firming complexes to sooth and repair aged and damaged skin. Consequently, the results of these handy little ampoules are both immediate and long-term.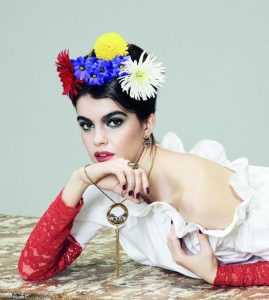 Fridawear

The Spanish direct-sales accessories and beautycare brand Cristian Lay has introduced a new limited edition line of jewelry inspired by Mexican artist Frida Kahlo. Designed by Miguel Ángel Leal with the guidance of Kahlo's great niece Mara Romero Kahlo as part of the company's celebration of its 20th anniversary in Mexico, the FK collection includes reinterpretations of the iconic handcrafted jewelry that was at the core of Kahlo's trademark look. Flowers and sparrows predominate in the collection, reflecting the artist's own obsession with nature and taking flight. There are a total of eight pieces in the silver and 24 karat gold-plated FK group, including earrings, necklaces, bracelets, brooches and pendants.
THE NEWS