WOMEN'S WORLD
There are two sure signs of springtime in Mexico City: One is the blooming of the capital's breathtakingly beautiful violet and lavender jacaranda trees, and the other is the launching of Palacio de Hierro's new spring/summer exclusive label designs.
Last week, the first pastel-hued buds of the jacarandas began to appear along the city's streetscapes, bursting with seductive shades of azure and mauve, and, at the same time, Palacio de Hierro presented a media sneak-peek trunk show of what to expect on the capital's fashionista urban catwalks this season.
Both were absolutely spectacular.
The Palacio de Hierro exclusive label collection, which is already beginning to show up at the department store's more than 100 luxury branches nationwide, included clothes and accessories from all nine of its limited licensed international brands in Mexico.
The show opened with the newest men's and women's offerings of Ugg footwear, the comfort-forward sheepskin boots and casual shoe line that first got its start in Australia and New Zealand and then took root in California.
And while there were plenty of predictable fleece-lined booties and tanned outer surface goulashes on display, Ugg's new 2017 collection, titled Real, is much less unisex and utilitarian and much more gender-specific and office-worthy, appealing to a larger audience than its traditional surf-culture bohemians.
Although snugness and wearability are still the trademark qualities of Ugg's spring/summer line, these shoes are more versatile and less, well, ugly, than some of their forerunners.
Next up at the Palacio trunk show were the latest stilettos and pumps from the Canadian-based Aldo Group, including its newest sub-brand, Call It Spring, targeted at a younger, more laid-back market.
But Aldo's traditional make-a-statement shoes certainly outshined the trainee label, with sky-high, take-charge bold, primary colored and retro denim-and-bead heels.
There were also shoes with big, clunky transparent heels, tri-color fringe sandals and irresistible gold lamé kickbacks for sensible-shoe treks with a splash of panache.
Juicy Couture, which had taken a two-year hiatus from the global market, was back in force at the Palacio show, with two streams of style, the brand's classic Black Label and its more provocative Juicy by Juicy.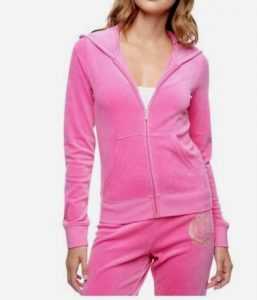 The Juicy by Juicy collection was dominated by bright Hawaiian-inspired pineapple prints and indulgent pink and baby blue pastels, while the Black Label assemblage included soft, ruffled LBDs and lacey zippered gowns with strategically placed peekaboo cutouts.
There were also quirky tweed bomber jackets and traditional body-hugging zuma pant suits, but the absolute darling of Juicy Couture's new line was a heart print sweater with a subtly positioned broken heart over the left breast.
The Bebe collection was somewhat smaller than usual, but was full of panache and bravado, including intrepid flared-leg pantsuits with lace-up open backs, studded laser cutaway blouses and flirtatious merrywidow corset halters.
The Women's Secret intimatewear collection was sexy and understated, with bright red, white and blues and cute little Hello Kitty pajama sets.
The Desigual clothing and accessory line was a little too casual for couture, with 70-throwback hippie bags, boisterous tie-dye prints and multi-textured embroideries (definitely geared to the sloppy high school and college crowd).
But the more mature Cortefiel collection, owned by the same Barcelona-based corporation as Disegual, was truly elegant and graceful.
The line includes discreetly gold-trimmed office jackets, silky Chanel-length dresses in flowing silk and lots and lots of never-go-out-of-style ladylike polka dot satin blouses.
The Cortefiel men's spring/summer collection was likewise classic and understated, with plush cotton button-down shirts, stovepipe pants, informal jackets and thick woolen sweaters in regal navy blue and scarlet tones.
The newest member of the Cortefiel's brand, Springfield, was also represented, and was all about updated destroyed denim and no-fuss cotton styles for young men and women that could easily go from school to work to a night on the town.
This collection was a happy marriage between casual comfort and classic, never-go-out-style design.
As in the Cortefiel women's and men's collections, polka dots were front and center throughout the Springfield line, as were cut-way shoulders and easy-to-wear linen jackets in earthy neutral tones paired with solid blouses and day-to-night soft-fitting stovepipe trousers.
All of the items in the nine collectons will be available exclusively in Mexico at Palacio de Hierro department stores starting later this month.
 WHAT'S NEW
Venomous Seduction
Dior has a new addition to its Poison collection, which was first launched in 1985. This protegí scent, Poison Girl, is targeted at younger lovers of the iconically lethal fragrance. The potent eau de toilette is a daringly addictive bitter-sweet floral gourmand with mouthwatering tinges of Sicilian orange, Calabrian orange, neroli and vanilla swathed in Venezuelan tonka bean and sensuously captivating Grasse rose petals. Crafted by Dior's in-house perfumier François Demachy to be an uncompromising signature fragrance, Poison Girl skews younger than anything the brand has produced to date and is far less oriental than the original Poison, with a youthful edgy flair. Dior Poison Girl is being fronted by French-American model Camille Rowe. The Poison dynasty is part of Dior's four-pillar fragrance collections, which also include the J'Adore, Miss Dior and Sauvage ranges.
Radical Defense
The high-end luxury French cosmetic and skincare line Sisley will be introducing a new Phyto-Blanc Brightening Daily Defense Fluid next month that is a two-in-one daily treatment with innovative technology that combines a powerful anti-dark spot action with a multi-protection SPF 50 plus an urban shield to protect your complexion from pollution and free radicals. Your skin is exposed daily to numerous environmental stresses which can deregulate the process of melanin production and mark skin with hyperpigmentation (also known as age spots or sunspots). Phyto-Blanc's patented breakthrough formula uses a combination of targeted active ingredients (including stabilized vitamin C, hexylresorcinol and modified rhubarb extract) for a highly effective brightening anti-dark spot action. Phyto-Blanc Brightening Daily Defense Fluid also boasts a high-tolerance mineral sunscreen and buckwheat seed extract, an anti-pollution active ingredient that protects the skin's barrier function from damage caused by atmospheric pollutants and photo-aging. And it contains ascorbic acid 2-glucoside, with powerful anti-free radical properties to strengthen the skin's defense capacity. A blend of pro-vitamin B5 and phtyosqualane adds moisturizing and soothing properties to the fluid. Protected against external aggressions all day long, skin reveals a newfound radiance, and the number, size and intensity of existing dark spots are visibly reduced.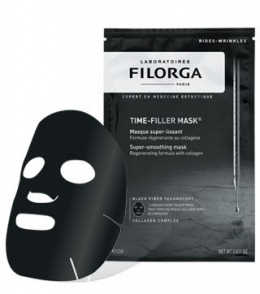 Instant Makeover
Filorga, the French-based laboratory that for the last 30 years has been producing anti-aging solutions for both the medical profession and general consumers, has just introduced two new instant-revitalizing, single-use masks available for sale only at offices of authorized dermatologists and plastic surgeons. The Filorga Hydra-Filler Mask is packed with concentrated hyaluronic acid to help plump external skin in 15 minutes. It also contains aloe vera to actively moisturize and revitalize skin in record time. The Filorga Time-Filler Mask, aimed at a more mature audience, restores youthful vitality through active tightening ingredients with lifting benefits. Fortified with natural-origin collagen and innovative new cell boosters, this powerful treatment helps reduce the appearance of sagging while stimulating the skin's regeneration process and minimizing wrinkles. Both are recommended for topical maintenance after surgery or injectable anti-aging treatments.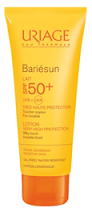 Silky Sunscreen
Nothing ages skin more than the sun, and dermatologists recommend using a broad spectrum sunscreen several times a day. Uriage's new Bariésun Lait SPF 50+ is a very high-potency lotion with a silky touch and an invisible finish that protects against both UVA and UVB rays. Suitable for even the most sensitive skin types, it also helps fight the effects of free radicals and dryness. Bariésun Lait is oil-free and water-resistant. The delicately perfumed formula can be applied to both face and body and is enriched with Uriage thermal waters from the French Alps, rich in trace elements and minerals. The water's abundant minerals help reinforce the skin's natural cutaneous barrier.
THE NEWS