Could this have been the most beautiful venue of this week's runways? Perched above the paddleboats on the Lago de Chapultepec, the Casa del Lago provided hardwood floors, natural afternoon lighting and aquatic views — which the models surely appreciated as they were getting their makeup done. Judging from what we gathered from social media, the first half of the ninth annual Mercedes-Benz Mexico City Fashion Week's (MBFW) Tuesday shows were well framed, indeed.
Check our review of Day 1 in the Colegio de San Ignacio de Loyola Vizcaínas, and check back in with The News for on-site coverage from the rest of this week's shows.
All photos courtesy Mercedes-Benz Mexico City Fashion Week unless otherwise noted.
KRIS GOYRI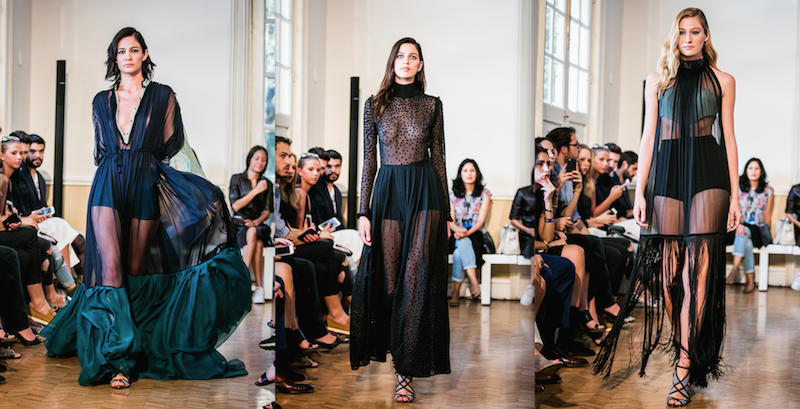 This Mexico City designer kicked off day two with jewels like a sumptuous, glorious navy and forest green transparent gown with a drawstring waist and delicate black pom-poms around the neckline. Gary's collection was marked by extravagant fabrics — often see-through, which seems to be a trend in evening wear this week — in relaxed cuts, perfect for those truly dedicated to the art of flouncing.
JOSÉ SÁNCHEZ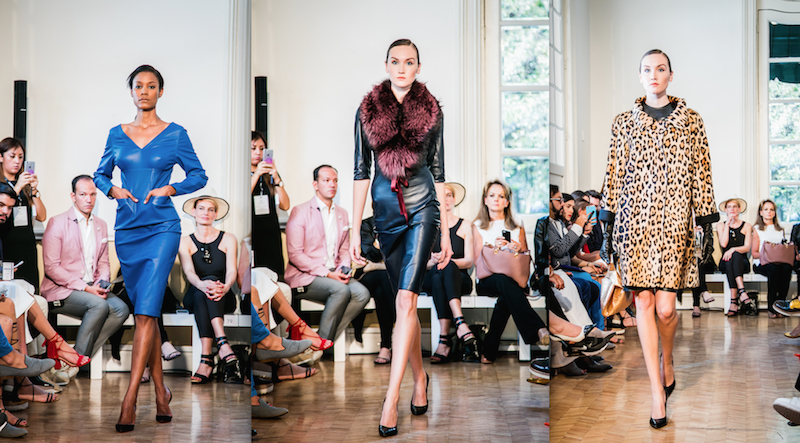 In contrast, José Sánchez's work seemed a bit more restrained, which might be a strange thing to say about a famed leather worker's collection, and featured a large amount of dyed fur and animal prints.
SANDRA WEIL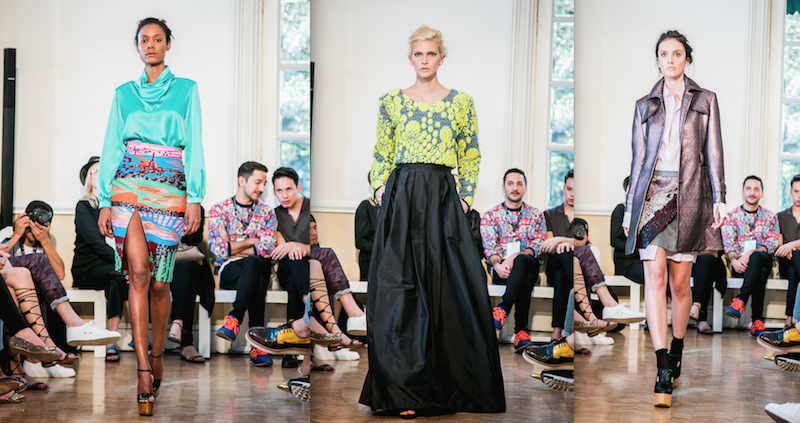 This Peruvian-raised, Mexico City-based designer strutted out her models in an array of conversation pieces — textured, neon weaves fashioned into wide-necked sweaters and sleeveless turtlenecks, metallic trench coats and cowboy shirts paired with ball gowns. She used one print (on the skirt, above left) whose hallucinogenic sherbets would certainly render their owner in sync with Mexico City's breath-taking, contamination-augmented sunsets.
XICO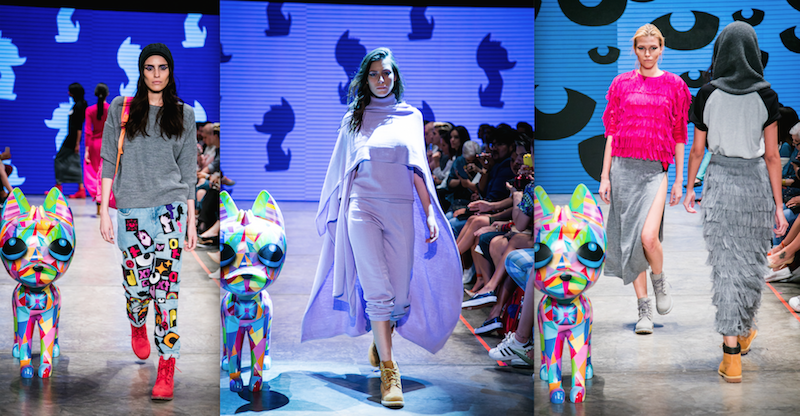 I spent too much time looking at the limpid-eyed rainbow dog on the runway (he was a tangible object, despite looking like a CGI graphic in these photos), but this was the most adorable, wearable collection of MBFW '16 thus far. Maybe too wearable — some of the scarf/sweatshirt/ripped jean looks may have been serving excess "department store advertisement" to be walking down a high fashion runway. Most of the pieces though, struck a harmonious balance between ease and originality, as with a fringed, ankle length column skirt, patch-covered distressed boyfriend jeans and fuchsia, grey and yellow work boots paired with everything.
ÍVAN ÁVALOS
Hidalgo's Ávalos went full throttle femme at Cine las Américas, showing fully sequined A-line prom dresses and white punched leather capes that fell all the way to the floor in the models' wake. The designer showed zero reluctance to bundle models in belted, strapless fur puffs. 
CIHUAH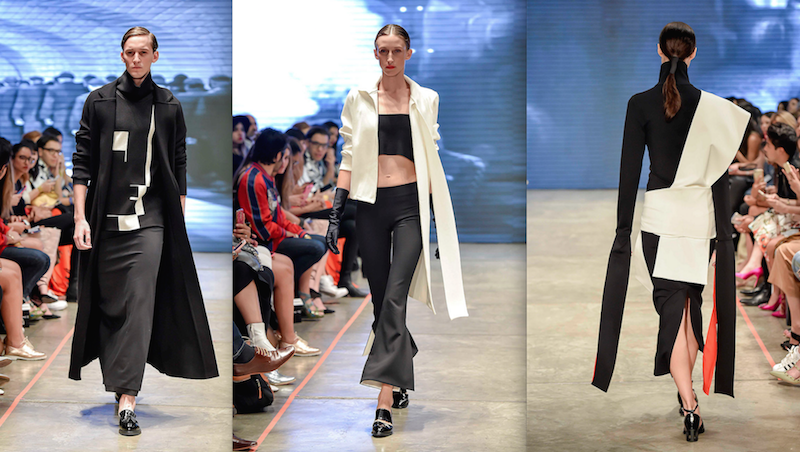 This is all well and good, you say, but I'm a cool-headed villain from a dystopic science fiction film — what does Mercedes-Benz Fashion Week hold for me? The answer lies in Cihuah, a brand whose name means "women" in the Nahuatl language, a nod to artisan traditions in Mexico. The French-Mexican brand presented a phalanx of asymmetric black and white separates, some with flames of orange flaming out from wrists. Director Vanessa Guckel opened her show with a woman wearing a pyramid, which you know is structurally sound given Guckel's background as an accredited architect. Mexico City denizens may look to adopt this look to help protect their personal bubble on crowded bus rides.
Así da inicio la pasarela de @cihuah en #MBFWMx pic.twitter.com/eajJu6MJj6

— MBFWMx (@fashionweekmx) April 13, 2016
JORGE AYALA
La top Model mexicana @aleinfante5 en el desfile de @jorgeayalaparis #MBFWMx #LFNews pic.twitter.com/3iJgIJefp7

— Latin Fashion News (@latinfashionews) April 13, 2016
Color junkies, your hour has arrived when this France-based auteur sent his models out. I am usually a fan of cacophony, but someone will have to explain the rationale behind pairing "ethnic" prints with U.S. flag pants and gaily painted motorcycle helmets. This collection borrowed a page from artist Mickalene Thomas' color wheel, but forgot to include her astute social commentary. Bonus points, however, for sending model Alejandra Infante down the runway with a bundle of grass in one hand (I'm sure it was a purse, but Infante herself didn't look too sure about it.)
ALFREDO MARTINEZ
Colección O/I 2016 de @alfredomartinz en @fashionweekmx #MBFWMx pic.twitter.com/xIcZiAdtiR

— estilo+ (@masestilomas) April 13, 2016
I heard a rumor that Mexican designer Martinez's collection presented yesterday was based on the female members of the Kennedy clan, but if you're thinking pastels and pillbox hats, don't. This was an assemblage of winter-toned mod looks, shot through with panels of luxe fur and the occasional show stopper in gold (skirts, fur jackets and improbably beautiful stack-heeled loafers.) What was unmistakably Kennedy were the demure head scarves plus red, white and blue sailor stripes. Also: no one does not need this black jumpsuit.
Mexico City Fashion Week continues through Friday, April 15. Today's shows starts at 4 p.m. in the refurbished Cine de las Ámericas and will include Jannette Klein, Galo Bertin, Pink Magnolia, Lydia Lavín, Vero Díaz and Benito Santos.
Attendance is by invitation only, but you can find documentation of the shows on the MBFW social media pages.
THE NEWS