In honor of the upcoming 400th anniversary of the deaths of William Shakespeare and Miguel de Cervantes, Anglo Arts is screening a series of film adaptations of Shakespeare plays at the Anglo Library in Mexico City.
The series is part of Shakespeare Lives, a yearlong celebration of Shakespeare and his work to mark 400 years since his death. Shakespeare Lives is a collaborative effort between Anglo Arts, the British Council Mexico, the British Embassy in Mexico, the Mexican Culture Secretariat, the National Fine Arts Commission (INBA) and the National Autonomous University of Mexico (UNAM).
The British community in Mexico decided to organize Shakespeare Lives because of the huge importance that Shakespeare has, not only for the United Kingdom, but also for the rest of the world. Based on international polling done by the British Council in 2014, Shakespeare is by far the most important British cultural icon in the eyes of the rest of the world.
"William Shakespeare has had a notable influence on the lives of millions of people," said Duncan Taylor, British Ambassador to Mexico. "Now more than ever, his legacy survives and grows; due to his undeniable ability to capture the essence of the human condition his work is able to remain relevant."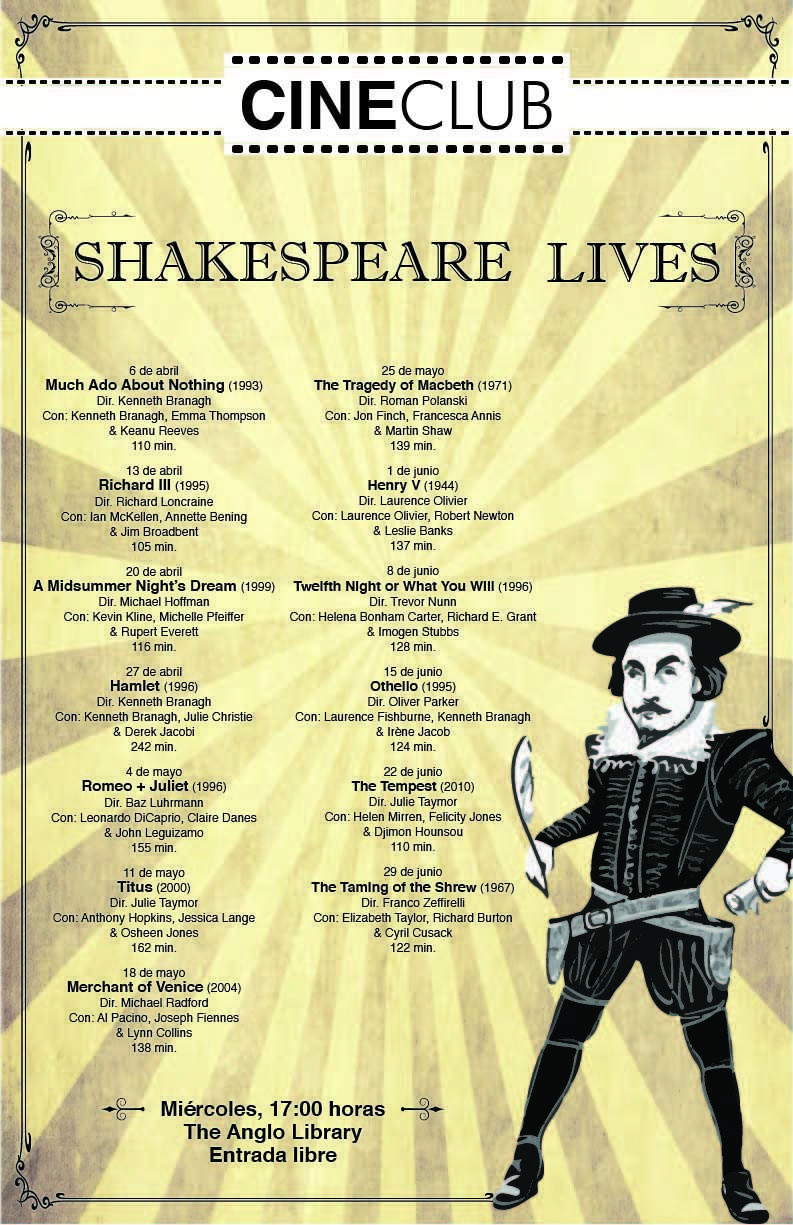 Anglo Arts is the artistic section of the Anglo Mexican Foundation, which was founded in 1943 with the goal of promoting exchange between Mexico and the United Kingdom. Since its inception, the Foundation has organized film screenings in Mexico of British films to promote British culture in Mexico.
"Our mission is cultural exchange between the two countries, and film has always been a large part of that," said Elisabeth Lastschenko, public relations officer for Anglo Arts. "For this installment of our Cine Club, which we do every few months, we decided on a series of Shakespeare films because of Shakespeare Lives."
The Foundation also manages the Anglo, an English school, and the Anglo Mexican library, an English Language library, both of which are located in a building designed by Spanish architect Felix Candela in the San Rafael neighborhood in northern Mexico City.
On the program are various iconic Shakespeare films, many of which have modern-day settings. Baz Luhrmann's Romeo + Juliet, starring Claire Danes and Leonardo DiCaprio, will be screened on May 4. Romeo + Juliet is set in Venice Beach, California, but was filmed in Mexico City and Boca del Rio, Veracruz.
"We chose a mixture of older films and more recent films with modern settings," said Lastschenko. The hundreds of film adaptations of Shakespeare's 37 plays offer an impressive catalogue from which to select films for the series. "We've chosen some of the best films to get people acquainted to Shakespeare and gain an appreciation for his work."
The film screenings are free and will take place every Wednesday at 5 p.m. until June 29 at the Anglo Library, Calle Antonio Caso 127, Colonia San Rafael, Delegación Cuauhtémoc. For more information, see Anglo Arts' announcement.
More than 50 events will be taking place in the rest of 2016 as part of Shakespeare Lives in Mexico, including film screenings, theater and dance performances, concerts and seminars. For more information, see the British Council's announcement.
THE NEWS