ECLECTIC EPICURE
What distinguishes the food from southern France from that of the rest of the European hexagon country is its traditionally bold, Mediterranean flavors and abundant use of aromatic herbs and olive oil (as opposed to butter further north) to accentuate and embellish the succulent, natural essences of local ingredients.
Blessed with the bounty of a warmer year-round climate than central or northern France, Provençale cuisine incorporates a rich cornucopia of fresh fruits and vegetables, as well as plenty of straight-from-the-swell seafood and tasty pasture-fed meat.
And then, of course, there is its influence from other Mediterranean countries, which not only traded goods and services with the Provence region over the centuries, but also left their gastronomic footprint on the local cuisine.
As in most of France, food is a crucial part of Provençale culture, and nearly every city in the region is associated with a specific ingredient or dish.
But unlike their northern cousins, the chefs of Provence — who can spend hours or even days perfecting the ideal Bordelaise or béchamel — are much more liberal with their use of rosemary, savory, marjoram and thyme and much more restrained in their use of sauces.
"If you are working with fresh, delicious, natural ingredients, there is no point in excessively dousing their innate delectable flavors with sauces," explained maître cuisinier Christian Delouvrier, who is currently headlining a three-week festival of southern French cuisine at the upscale Au Pied de Cochon restaurant inside the Presidente InterContinental Hotel in Polanco.
"The dishes of Provence let the natural flavors of the ingredients shine through."
Delouvrier should know; he has been honing his culinary skills as a master chef for more than a half century, first in Paris, where he awakened the palates of the haughty City-of-Lighters with his untempered use of spices and zest for gastronomic inventiveness at the historic Café de la Paix inside Le Grand Hotel, and later in Montreal, the Bahamas and New York, where he opened the famed Maurice restaurant inside the Parker Meridien before moving on to launch Les Celebrités in the Nikko and becoming the executive chef at the St. Regis' four-star Lespinasse.
Now retired, the Boulogne-sur-Gesse native spends most of his time as a culinary consultant and overseeing special gastronomic festivals as guest chef in high-end restaurants around the globe.
His Cuisine de Terroir festival at Au Pied de Cochon focuses on the robust cookery of his beloved homeland in Gascony, and is a culinary odyssey into haute Provençale haute gastronomy.
The tantalizing bill of fare includes a chef's tasting menu, which Delouvrier served to a gathering of media food critics last week as a preview to the festival.
This seven-course meal offers a sampling of the Cuisine de Terroir festival's highlights, and Delouvrier has even developed a recommended wine pairing to accompany the pageant of southern French culinary delights.
The menu opens with an amuse-bouche of a creamy cauliflower mousse with deep-fried beet chips that is bursting with farm-fresh goodness and a tang of coriander and cumin.
Delouvrier served the custard with a 2014 Château Fonchereau, a pale yellow Bordeaux Blanc produced by a Mexican vintner who moved to Bordeaux from Sinaloa to open his estate.
The Fonchereau was acidulous and buttermilky, with an underlying tinge of artichoke, so it paired superbly with the cauliflower pudding, bringing out its earthy grange flavors and lactic textures.
Next up on the tasting menu is an acerbic baby squid and grilled tomato medallion in a pine nut and basil pesto.
The sweet basil helps to balance out the bitterness of the squid, which is revved up on an astringent blend of vinegar and olive oil, creating a flirtatious concerto of flavors in the mouth.
Interestingly, when paired with the squid, the Château Fonchereau took on a whole new character, with a warmer, less tart, more perfume-y bouquet that complemented the seafood dish perfectly, bringing poise and symmetry to the dining table.
The third course of the tasting menu is composed of one of Delouvrier's signature dishes, a quick-sealed duck foie gras paste inside a baked apple with fresh fig and cranberry chutney.
Not only is this dish a gourmandise indulgence, but it is so visually appealing that you might hesitate before diving into its saporosity.
During the press luncheon, Delouvrier served the foie gras with a garnet-hued 2009 Bordeaux from the state estate as the Bordeaux Blanc, which remained as the wine of choice for the rest of the meal.
This stately vin was full of sour cherries and orchard apples, with a hint of French oak, so it played well against all of the dishes, sometimes complementing and sometimes contrasting with the distinctive flavors of Delouvrier's epicurean largesse.
After the foie gras, the tasting menu offers a pink salmon fillet baked in its skin and served in a simmering confetti of roasted lentils, bacon bits and Burgundy au jus.
The scarcely cooked fish absorbs the fragrant blend of lentils and bacon and imparts its own briny appeal to the dish to craft an unexpected ensemble of flavors.
The main course, and pièce de résistance of the meal, is comprised of a tender duck magret served on a bed of sautéed spinach and champignon mushrooms and kissed with a sweet lemon and honey marinade.
This stand-alone masterpiece is accompanied only by three twigs of reconstructed potato purée.
"Anything else on the plate would distract from the eminence of this dish," Delouvrier told The News in a brief interview after the press lunch.
"The duck, spinach and champignons represent a harmonious trio that don't need a backup."
The Cuisine de Terroir menu includes two desserts, and rather than have his guests choose between them, Delouvrier decided to offer both of them, one after the other.
The first dessert is a sweet confection of soft merengue bathed in dark cacao and vanilla ice cream that will set off the salivary glands of any chocoholic.
But the second dessert, filched from the recipe book of Delouvrier's own mother, is an unpretentious but flawless apple tart that reiterates the Provençale chef's obsession for good food kept simple.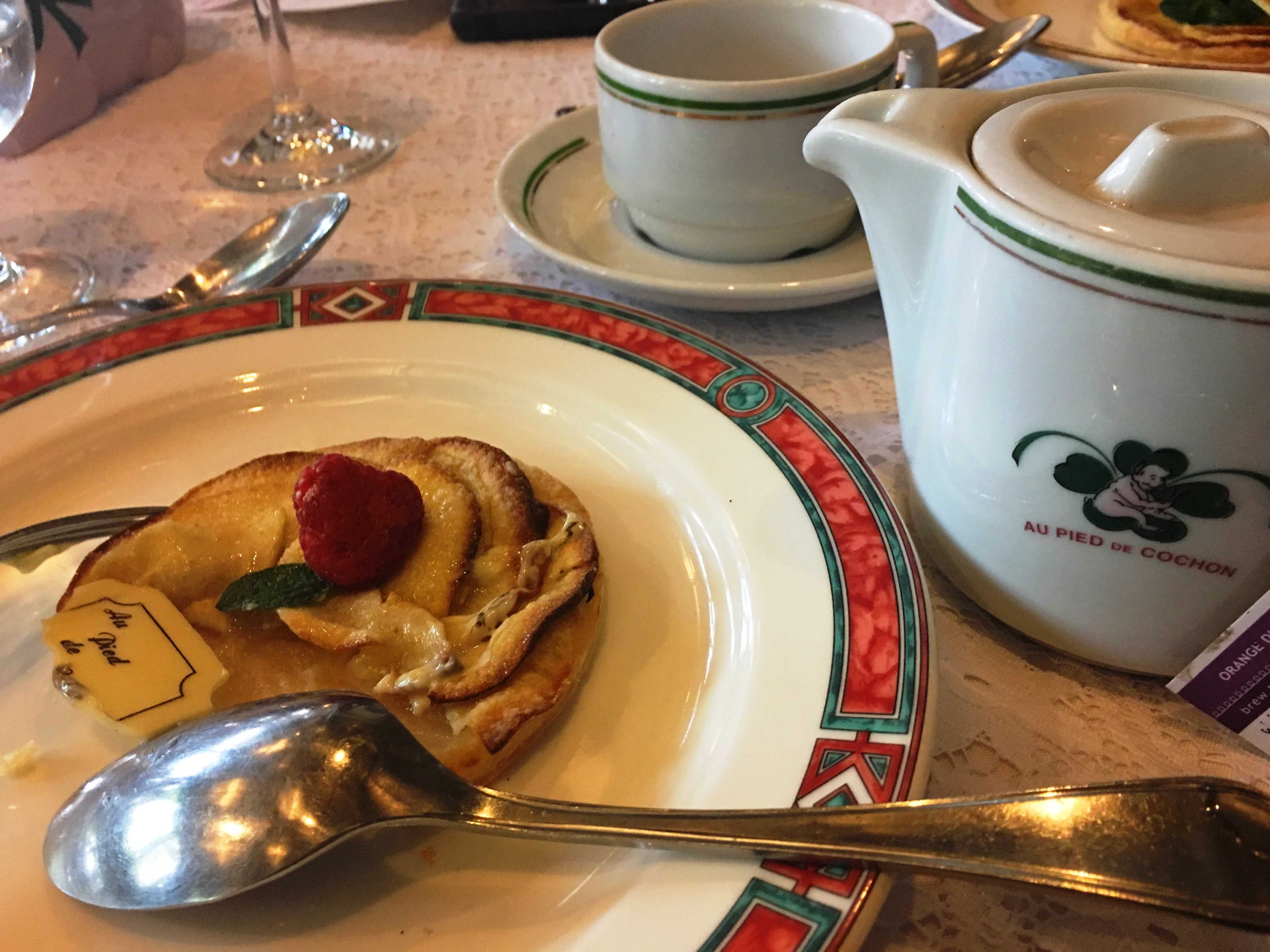 More information
Chef Christian Delouvrier's Cuisine de Terroir festival of southern French cuisine is being held inside the Au Pied de Cochon restaurant on the ground floor of the Presidente InterContinental Hotel, located at Campos Eliseos 218 in Polanco.
The festival will run through Sunday, April 2.
Reservations are advised and all major credit cards are accepted.
Valet and personal parking are available at the hotel.
THE NEWS